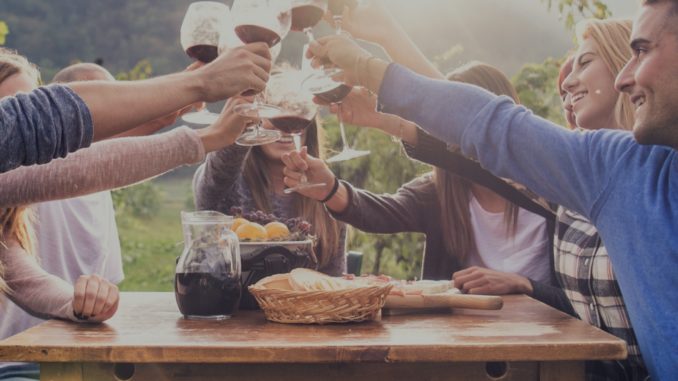 Wineries, hotels, restaurants – the best addresses
Wining and dining in Austria – this ebook provides information for the interested traveler who wants to discover a country more deeply than the average tourist.
Plus the most interesting details about the Austrian cuisine and wine culture!
Hopefully you'll find something interesting here and you'll decide to take a look yourself.
Enjoy reading, drinking and eating!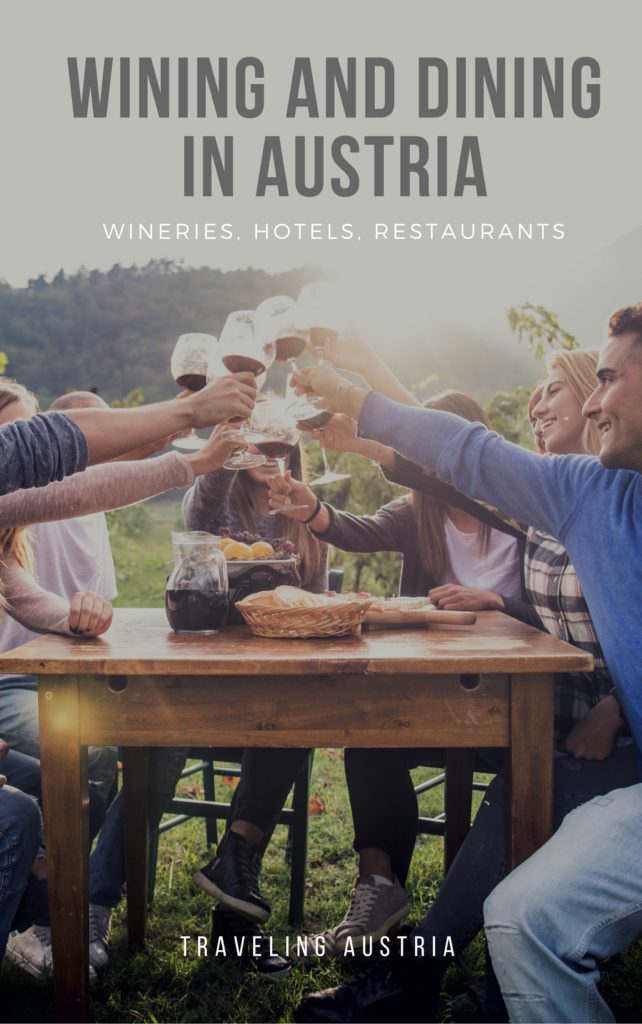 A small, classy restaurant with guest rooms, award-winning wines, homemade fruit brandies and all manner of sweets involving apricots. At the more than 700-year old Prandtauerhof in Jochingan der Donau, the Holzapfel celebrates the rich tradition of hospitality in the Wachau region, serving up the best of what the area has to offer in terms of food and wine.
When Karl Holzapfel senior bought the Prandtauerhof back in 1968, this four-winged Baroque jewel with its two-story arcaded courtyard and its own chapel was on the verge of becoming a ruin. A great deal of time and money, and even more enthusiasm was needed back then to carefully renovate and revitalize the former grape-sorting centre of the St. Pöltener Chorherrenstift monastery. But this investment has paid off: the Prandtauerhof is now one of Lower Austria's premiere venues for fine dining and also counts as one of the best vineyards and schnapps distilleries in the entire country.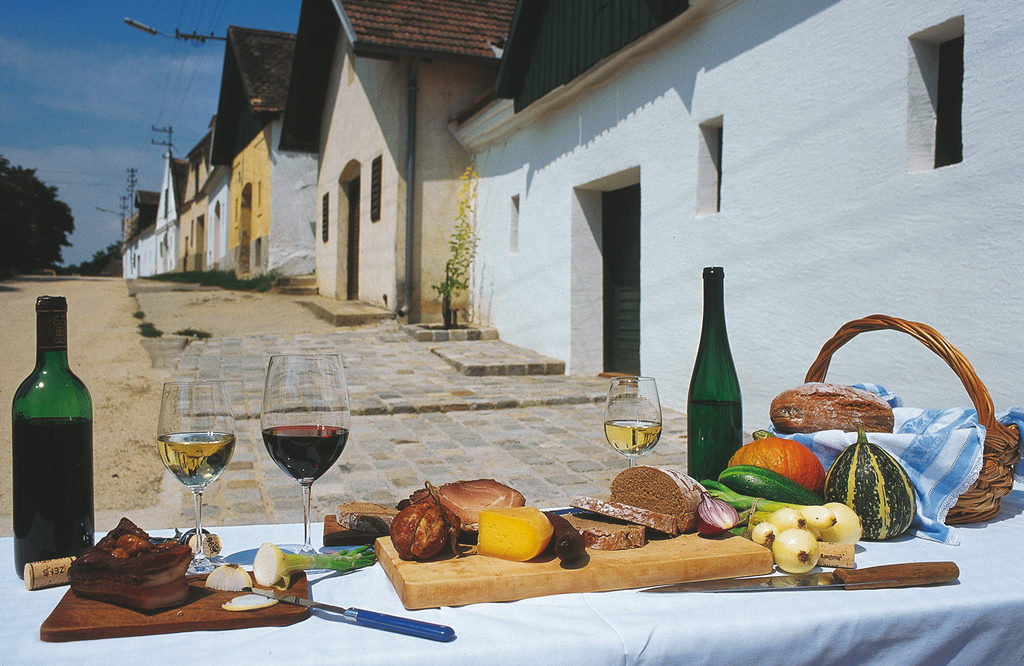 The family-owned restaurant with its romantic courtyard is a truly splendid location to enjoy a glass of fine wine and the local specialties which are served here. The cuisine is creative and exciting, but never loses sight of its humble origins, relying on selected products and ingredients from the surrounding area and the nearby Waldviertel, such as smoked ham from the family's smokehouse, fresh brook trout and roast beef marinated in veltliner wine. For dessert, one might fancy semi-sweet chocolate with zweigelt ice cream, Topfennockerl (sweet quark dumplings) with apricot jam, or the delicious apricot brandy chocolate, which you can also take home, along with many of the other apricot specialties produced here. And speaking about "home", after enjoying your meal at the Prandtauerhof, why not extend your stay and take one of the four rooms, decorated with materials from the UK interior designer label "Designers Guild".
Contact:
Weingut Holzapfel
Prandtauer Platz 36
3610 Joching, Lower Austria
For decades, Jamek has been a front-runner in the Wachau, both in terms of its wonderful atmosphere and the quality it offers.
Josef Jamek was the pioneering vintner in the Wachau region and his wines were among the first which made their way into the finest restaurants of the Arlberg back in the 1960s. The best place to enjoy these wines, however, has always been at the restaurant in Joching, which is now run by the next generation, Jutta and Hans Altmann. An easy-going country inn, with a peaceful atmosphere, where comfort is valued over noble airs. In the cozy rooms, on the terrace or sitting in the charming garden, guests can feel at ease and gladly take their time. And spending time here is a pleasure indeed, with food which perfectly harmonizes tradition and regional pride: fish and game dishes play a central role, along with classics such as riesling lights, quenelles de brochet, Topfenhaluschka (noodles with bacon and quark) and apricot dumplings. It's no feat to find the right wine, since the rieslings and veltliners produced by the Jamek estate are amongst the best in the Wachau. Those who wish to stay a bit longer and enjoy the ambiance are well advised to inquire early about the availability of the charming rooms at the Jamek vineyard.
Contact:
Weingut Jamek
Joching 45
3610 Weißenkirchen, Lower Austria
The Igler family of vintners has carefully adapted an old farm to provide a new home for their fine wines. The architecture, wines and atmosphere all merge seamlessly together to reflect the quiet character of the central Burgenland region near Lake Neusiedl.
A weekend excursion to visit the Pannonian landscape in the Burgenland and stock up on fine wines is great fun. If you're on the road near Deutschkreutz on a Friday or Saturday, make sure to stop by the Schaflerhof of the Igler estate, because these are the two days of the week that the Igler family opens its wine stores at their 300-year-old farm.
The Schaflerhof exudes a sense of history and typifies the great atmosphere of this wonderful landscape around the edge of Lake Neusiedl. As the name implies, the farm was used for sheep farming for hundreds of years, as part of the estate owned by the Esterházy princes. Several years ago, the Iglers adapted the 65-metre long main building and had a spectacular roof put on the ancient walls. The complex construction of the roof frame reminds one of a ship turned upside down, which protects some 600 barrels of barrique wines which are stored inside under just the right conditions.
The most well-know Igler wine from this region, which is renowned for its 'blaufränkisch' reds, is the Cuvée Vulcano. Wine connoisseurs consider the wines grown at the "Biiri" terroir (one of the oldest wine-growing spots in Deutschkreutz) to be among the best. And if you can't make it on the weekend: the Igler's red wines can also be tasted during the week at the Vinothek in the Lange Gasse in Deutschkreutz.
Weingut Hans Igler GmbH
Lange Gasse 49
A-7301 Deutschkreutz
The SpaetrotHeuriger is a place of true culinary inspiration and Austrian cooking culture.
The Spaetrot vineyard is famous for continuing the tradition of local grape types such as Zierfandler, Rotgipfler and St. Laurent, and its Heuriger in Gumpoldskirchen has become a hot address in Austria's culinary scene. Together with chef Harald Brunner, owner Johanna Gebeshuber is jointly responsible for defining a culinary programme that fits perfectly with the organic wines.
The traditional Heuriger display cases are full of scrumptious raw milk cheeses from the Alps, mangalitza hams and salami made at the free-range pig farm Labonca. These are complemented with homemade spreads for bread from the Gumpoldskirchner bakery Eder. Most of the guests, however, come for the "freshly made dishes". For example, as an appetizer one might try the mountain trout in herb aspic with tomato-artichoke salad or the fantastic Tyrolean strained yogurt from goat's milk by Brigitte Eberharter, with a spring salad and paprika marmalade.
The main meals also include top-quality Heuriger classics such as cured pork cutlet with potato-lamb's lettuce or oven-baked suckling pig with dumpling. There are always vegetarian specialties on the menu as well, such spicy-fluffy alpine cheese dumplings with spinach and brown butter. Depending on the season, you can look forward to a chanterelle mushroom goulash with herb dumplings or the simply outstanding cured cutlet from Labonca pork with rosemary, thyme and chanterelle mushrooms. Another delicacy of the house is the trout mentioned above, which comes from the nearby aqua-farm of Peter Brauchl. If you'd like, you can have an entire menu prepared from these excellent cultured fish.
Contact:
Heuriger Spaetrot
Wienerstraße 1
2352 Gumpoldskirchen, Lower Austria
Ultra-modern architecture and an excellent range of spa facilities in one of Austria's most traditional wine regions: it's a concept that shows just how successful the four-star Superior Hotel Loisium in Langenlois really is.
A gentle scrub with grape seeds to start with, followed by a relaxing barrique bath in the wine barrel tub and perhaps even a revitalizing soap and brush massage to finish with? In the Loisium Hotel's Aveda Wine Spa, they've specialized in feel-good treatments based on grapes, wine and vines.
So it won't come as a surprise that "Wienerin" magazine voted the innovative spa one of the "50 most beautiful spa oases in Europe". But it's not just in the spa area of this extravagant hotel that guests can relax and make themselves comfortable. The hotel's 82 rooms with their open baths and classic yet modern interiors guarantee only the best in ultimate, multiple-award-winning enjoyment.
And travelers who're only going to make a fleeting visit to the Loisium, or who may well want to combine their visit with a round of golf at the nearby 36-hole course will be interested to know that the Aveda Wine Spa is also open to day guests when arranged in advance.
Contact information
Loisium Wine & Spa Resort
Loisium Allee 2
3550 Langenlois, Lower Austria
http://www.loisiumlangenlois.at
With extremely luxurious apartments, award-winning Heuriger cuisine and top wines with a regional character, the Zuschmann-Schöffmann winery showcases the very finest aspects of the wine district.
A landlord's son is training to be a chef in top international hotels. Upon returning home, he falls in love with a wine grower's beautiful daughter. Together, they decide to do something new. The result: a high-quality Heuriger with apartments and a little land of milk and honey. Ever since then, this hotel has served up wild boar, pheasant, lentils and plenty other products typical of the region – preparing them in a light, nutrition-conscious manner or following original yet outstanding recipes from the wine district. Meanwhile, on the wine menu you'll find crisp Grüner Veltliner, an elegant Pinot Noir and even a varietal vintage sparkling wine that's been hand-fermented in bottles following the champagne method, to name but a few examples. Guests are also welcome to visit the modern wine cellar, which is the secret behind this outstanding quality. A seminar room with a view of the barrique barrels in the cellar provides the perfect setting for professional seminars on wine and wine cultivation. Recently, guests have been able to purchase the high-quality products and specialties from the hotel's very own general store. Five apartments complete the lodge. They are modern and tastefully furnished, equipped with a fridge, dishwasher and coffee machine. And the sheer size of the apartments in particular is guaranteed to make guests feel right at home.
Contact
Weingut Zuschmann-Schöfmann
Winzerstraße 52
2223 Martinsdorf, Lower Austria
Hidden between the vineyards of the Wachau Valley with views of the Danube river, you'll find the Garden Hotel, where guests can enjoy a wonderful holiday with the perfect combination of wine, culinary delights and indulgent spa treatments. In the large penthouse spa, guests can relax under the first rays of spring sunshine or under the awesome autumn sun.
Enjoy a truly beautiful natural experience – a walk through the vines in the vineyards, a short and indulgent bike ride through the Wachau Valley's dreamy little villages on the hotel's own hire bikes, and a boat trip on the Danube. The Pfeffel family also enjoys accompanying their guests on walks through the hotel's vineyards or going on a fun bike ride through the vines. Naturally, this involves an interesting wine tasting session with the house sommelier. The fortresses and castles in the region are essentially stone storytellers.
The town of Dürnstein even resembles something of an open-air museum. All this and more besides can be comfortably experienced from the Gartenhotel – a true panoramic hideaway where you can enjoy a magnificent view of the Danube river meandering its way through the Wachau Valley from Dürnstein to Weißenkirchen. The penthouse spa – home to a sauna landscape featuring an emerald steam bath, a salt water grotto, an infrared wine barrel, a Laconium bench and a panoramic sauna – provides guests with a multitude of ways to relax. And to relax after all that sweating, why not take a stroll in the spa pavilion with some tranquil background music? Sun worshipers and outdoorsy types meet on the sun terrace, where there's a heated stainless steel outdoor swimming pool with a magnificent view over the Wachau Valley.
The Wachau apricot and the Vinoble® series of wine cosmetics featuring elderberry and grape extracts are at the heart of all the beauty treatments on offer. In the stylishly furnished restaurant, you simply must try the cream of tomato soup, made with tomatoes fresh from the hotel garden and served with basil dumplings. The landlord grows his very own vegetables and herbs on a plot measuring 2,000 m². He uses organic fertilizer produced by his own chickens and goats; the chickens supply the hotel with fresh eggs every day as well. If we were to take a snapshot of the menu, you might find fresh fillet of pike-perch served straight from the grill with pesto vegetables, or Tullnerfeld pork on porcini gnocchi, followed by apricot panna cotta with vanilla ice cream for dessert. And to make a good meal even better, why not have a glass of house wine or sparkling wine and try a shot of homemade Wachau apricot liqueur?
Contact information
Gartenhotel Pfeffel
Zur Himmelsstiege 122
3601 Dürnstein, Lower Austria
Heurigenhof Bründlmayer is not your everyday Heuriger. The cuisine at this wonderful historical venue is absolutely top-notch and Bründlmayer wines are counted among the very best in Austria.
The name stands for quality, because the Bründlmayer pays close attention to ensuring that anywhere their name is used, the quality is tops. This applies to the wines made by Willi Bründlmayer as well as for the Heurigenhof, where chef Daniel Petz works his wonders in the kitchen to indulge his guests. He loves working with fresh, regional products. The menu includes a creative range of cuisine, with classic Heurigenhof favorites such as blood pudding ravioli and marinated Alpine salmon or a multi-course menu, with every course accompanied by just the right wine from the Bründlmayer collection. It is also possible to purchase any of the Bründlmayer estate wines at farm-gate prices. Guests who wish to stay a little long can also take their repose in the charming guest apartment.
Contact:
Weingut Bründlmayer
Walterstraße 14
3550 Langenlois, Lower Austria
The Oberstockstall is an enchanting, magical place, offering a unique symbiosis of pleasure, mystery and hospitality.
It was an archaeological sensation in 1980 when a completely outfitted alchemist's laboratory from around 1580 was found and excavated in the castle chapel at Oberstockstall. It can now be seen at the Alte Rathaus in Kirchberg. There's a little less alchemy involved in the cooking going on in the Oberstockstall kitchen run by chef Eva Salomon, albeit her work is also about much more than just combining the right ingredients. "Eating and drinking in the countryside" is her motto, and she lives up to it by making sure that many of the products used are from local suppliers or even own production.
This includes wines from their own vineyard, along with sheep, ducks, geese and vegetables: all raised and grown according to organic standards. She conjures these together to create dishes that have a revitalizing effect on the body, rather than weighing it down. Let your spirit run free on the cozy terrace at the country inn or in the tastefully decorated dining area. And you can take some of the delightful treats home as well, in the form of delicious Gut Oberstock pralines in the flavors Caramel-Fleur de Sel and Dirndl & Pinot Cuvée champagne. Attractive accommodation is available nearby at the "Alten Winzerkeller" in Kirchberg am Wagram.
Contact:
Restaurant Gut Oberstockstall
Oberstockstall 1
3470 Kirchberg
The Gowerl-Haus in Illmitz offers an enchanting combination of comfortable Austrian atmosphere, traditional Heuriger style and some of the finest wines from the Burgenland region.
In recent years, it has become increasingly difficult to find authentic local wine taverns in one of Austria's premiere wine-growing regions by Lake Neusiedl. It appears that wine bars and specialized wine shops are taking over their role. Thus, one can be all the more grateful to the families Kroiss and Vegh as they are dedicated to continuing this tradition at their beautiful Gowerl-Haus in Illmitz. Most of the wines and the zweigelt vinegar are homemade, along with other fantastic products which they make from their own mangalitza pigs. The rest is delivered by local suppliers. With its large menu, the Gowerl-Haus has much to offer, such as creamy Illmitzer leberkäse, sausages from mangalitza pork, head cheese with zweigelt vinegar and onions, blood sausages, bread with schmalz and bacon. Local specialities abound as the air-cured beef ham from Hungarian grey cattle comes from the National Park in Apetlon, the sheep milk cheese is from Tadten, the goat cheese from Gols, the terrines are from the Stekovics family in Frauenkirchen and even the chips and snacks are from Schattendorf, not from the supermarket. And that's just the way it's supposed to be in a real country wine-tavern.
Contact:
Gowerlhaus
Apetlonerstrasse 17
7142 Illmitz, Burgenland
The Schandl wine-tavern combines traditional dishes with creative cuisine. An epitome of Austrian dining pleasure.
For a long time many have actually said that Schandl is not really a traditional wine-tavern anymore, because its menu is too extensive. Be that as it may, it's still always a great pleasure to eat there. The lovingly renovated house has a traditional bar area, where guests can select from the dishes made by Barbara Schandl. Marinated sour-milk cheese with pumpkin seed oil and green onions, blood pudding with mustard, horseradish and bread, "fine pâtés" and various kinds of sausages are always available and always delicious.
And these are all really classic Heuriger-style dishes, aren't they? Along with the buffet dishes, one can also enjoy wonderful fish soup with root vegetables and paprika, an excellent zander fillet with garlic and parsley potatoes, pork schnitzel with potato salad or delicious hearty-spicy meat with sauerkraut, served with a bread dumpling interestingly enough.
The staff are very friendly and competent when it comes to selecting the right wine as well. The rosé, furmint, pinot blanc and of course the regional specialty blaufränkisch are all excellent. As a finale, guests can chose from Somlauer Nockerl, a kind of Hungarian trifle, or poppy-seed noodles with plum jam, or even settle for a room at Hotel Schandl if needs be.
Contact:
Buschenank Schandl
Hauptstraße 20, A
7071 Rust, Burgenland
Extraordinary atmosphere, high-end bio-dynamic wines and a small, but delicious Heuriger-style kitchen: Gut Oggau has conquered the hearts and palates of Austrian connoisseurs with this rich combination, and has even made it into a museum in San Francisco!
The "family of wines" from Gut Oggau has nine members. Their names are Theodora, Winifred, Timotheus, Atanasius, Emmeran, Joschuari, Mechthild, Bertoldi and Wiltrude. And what makes them special is that not only are they made according to strict organic criteria, they also look so good that they made it into the exhibition "Design & Wine" at the Museum of Modern Art in San Francisco! Don't worry though, you won't have to fly overseas to taste them. You need only visit Gut Oggau in the Burgenland.
At this historic vineyard, one meets Stephanie Tscheppe-Eselböck (from the well-known family of cooks) and Eduard Tscheppe (from the famous vineyard in Styria), who run an upscale Heuriger with wine sales. Charming: the lovingly decorated courtyard with spacious tables, comfortable benches, floral and crocheted cushions, a nice cellar and an old garage where guests can now dine from a wooden boat that has been re-purposed into a table. Delicious: cold-smoked, cured hams, spreads, baked goods, blood sausages and pâtés from the region and the almost legendary lamb bratwurst or the Oggauer Feuerfleck, a crispy flat bread with bacon, cheese and onions.
Ideal for wee guests: Max and Moritz, the two goats in the mini-petting zoo, and plenty of room to play and have fun. Opening hours are listed on the Internet.
Contact:
Gut Oggau
Hauptstraße 31
7063 Oggau, Burgenland
The menu in Mönchhof is simple, yet full of surprises, ensuring a unique culinary experience in a fantastic setting.
Whether the Schlossahaus qualifies as a Heuriger or as a wine-tavern is a matter of some debate. At any rate, it is certainly a great asset to the region. The rooms, the beautiful garden at this former metal fabrication workshop and the opening hours are more reminiscent of a Heuriger, but the selection of wine and food leans towards that of a wine-tavern. All of the wines can be purchased by the glass and are excellent; after all, three of five reds on the menu are award winners.
The menu is simple, but full of surprises. The homemade Liptauer cream cheese and paprika spread, for example, can be ordered as a "hedgehog", punctuated with pretzel sticks. The real specialty is the famous organic dinkel wheat spread which is "always freshly prepared, according to a closely guarded recipe." Other treats include head cheese with special marinade, red onions, pumpkin seed oil, cherry paprika, blood sausage with mustard and horseradish, and the Schlossa snack featuring cured sausage from Hungarian gray cattle from the Seewinkel national park. These sausages can also be ordered warm with horseradish and Dijon mustard. The boiled ham made from the same kind of beef is something that must be tried. The regional Pannonian Schmankerlteller is in class of its own, including ham made from wild boar and venison, sausages with game meat, organic lamb liver pâté and cheeses, terrine à la Stekovics and much more.
Contact:
Heuriger Schlossahaus
Stiftsgasse 18
7123 Mönchhof, Burgenland
http://www.heuriger-schlossahaus.at
The Loibnerhof is a real institution in the culinary scene of the Wachau and a mecca for excellent regional cooking for decades.
Actually, one does not go to the Loibnerhof to eat, one goes to "Knoll". The name stands for one of the Wachau's greatest teams and is a guaranty for quality in a number of senses: Josef Knoll in the kitchen at the Loibnerhof and his cousin Emmerich, who's renowned for his veltliner and riesling wines from the Loibnerhof estate. During the warmer part of the year, the expansive fruit garden is a particularly popular venue, whilst during the winter the happenings are concentrated on the other side of the street, at the "winter quarters".
Josef Knoll is a master chef who commands formidable skills in hearty, rustic cuisine and has a predilection for aquatic specialties such as crayfish, wels catfish and trout. But along with the delicious fish, one finds all manner of other dishes such as game, mushrooms and the legendary homemade noodles with bolete mushrooms. On weekends when the weather is nice, a table reservation is absolutely necessary, as word has long since spread of how wonderful the food is at Knoll, as reflected by the three stars by Guide à la Carte and one Gault Millau toque.
Contact:
Loibnerhof
Unterloiben 7
3601 Dürnstein, Lower Austria
The antiquated name "Waldschänke" sounds inviting even if it doesn't reveal what might lie behind it: namely one of Austria's very best country inns.
To begin with, the Waldschänke is really precisely what it says: A picturesque inn at the edge of the forest with a lovely garden, where inclement weather guests can dine beneath the fruit trees. Elisabeth Grabmer's cuisine of course has earned the Waldschänke a well-deserved reputation among gourmands from near and far.
Using largely regional products, she creates dishes that bear her own distinctive stamp and that clearly position the inn among the ranks of the gourmet establishments (2 Gault Millau toques). Crevettes, fresh fish, regional game, veal, lamb etc. all from suppliers she has known and trusted for years, form the basis for a cuisine that is firmly rooted in the region yet which also reveals Mediterranean accents.
The wine selections should be left to the host (and wine aficionado) Heinz Grabmer, who will guide you through the more than 1,000 wines in his cellar.
Contact:
Waldschänke
Kickendorf 15
4710 Grieskirchen, Upper Austria
The Loisium Wine & Spa Resort explicitly proves that traditional wine culture and the environment of a wellness design hotel can be a perfect combination.
In 2003 when the Loisium wine adventure was opened in Austria's biggest wine-growing city, Langenlois, it quickly became a hot topic amongst wine lovers throughout the world and there was a stampede of visitors.
It was only fitting that shortly thereafter the first Loisium Wine & Spa Resort with 82 rooms opened its doors. There has been a counterpart in the South Styrian wine region. The Loisium in Ehrenhausen came into being on the assumption that the special topographical aspects of the surroundings would be incorporated into the architecture.
A design hotel thus evolved, of which the main building – a structure mounted on stilts and glass – blends effortlessly into the hilly landscape with its picturesque vineyards. Equipped with a large outdoor pool and an indoor spa center, well-being is coupled with indulgence in exquisite wines.
The interior design can be described as having a reinterpreted Styrian style. From the specially fired green tiles in the lobby and spa to the reception desk lined with wrought brass through to the spruce dados in the rooms, elements of old Styrian inns are drawn upon throughout the entire building. The new hotel is ideally located for experiencing the characteristic landscape and culture of Southern Styria on different tours, either on foot or by bike.
Contact
Loisium Wine & Spa Resort Southern Styria
Am Schlossberg 1A
8461 Ehrenhausen, Styria
When Austrian gourmets take a vacation they are attracted to an area in south-eastern Styria with a very special reputation: The Volcano Land.
There haven't been active volcanoes in southern Styria for two million years, but the enchanting, hilly landscape that is frequently compared to Tuscany by visitors to the area emerged about 17 million years ago. Today many farmers still benefit from the fertile land. But even the finest agricultural products such as apples, pork, gourds or grapes do not serve their true purpose if there are not those who know how to refine them. And this is what the Styrians are experts in. Some of the finest food products in Austria come from the Styrian Volcano Land: Finest brandies, and vinegar in Gölles, ham from Vulcano, pickled vegetables and mushrooms from Finks Echte Delikatessen, wine from Neumeister, Winkler-Hermaden or Ploder- Rosenberg, and, of course, chocolate from Zotter. Cocoa, of course, does not grow in Styria but the sweets are produced in their entirety in Bergl close to Riegersburg castle.
Wine grown on volcano rock
Styria has been known for its excellent wines for a very long time. Whether Traminer or Sauvignon Blanc, Weißburgunder, Morillon (Chardonnay), Welschriesling, Zweigelt or Blauburgunder (Pinot Noir), they all flourish and are cultivated by the best wine growers. While visiting the vineyards the wines can be tasted and you can learn about how this special soil affects the wines. If the vineyard does not have a conventional vinotheque it is advisable to arrange a visit in advance so that the vintner's family can take time for its guests. Most of the enterprises here are family run. In a relaxed, casual atmosphere typical food is served with the wines. Often it is cold sliced sausages, salads with gourd seed oil, or ham and sausage specialities served outside the usual meal times – on a sunny afternoon, for instance.
Wine&Pork Ham and bacon are staples of the Volcano Land diet. A few years ago the vintner family Krispel began to breed the swallow-bellied Mangalitz pig, an old European race that was considered to be an endangered species because the high fat content of the animals was no longer considered up to date. They yield an especially tasty and low-cholesterol bacon which the Krispel family salts, seasons and cures in a manner similar to the Tuscany Lardo di Colonnata. It is called "Neusetzer" and has since reached cult status in Austria. It can be sampled at vinotheques and purchased to take home.
Another enterprise uses the name of the region in its brand name. The Vulcano Schinkenmanufaktur (Volcano Ham Manufacturer) has specialised in finest products from swine. Tours through stys and curing rooms followed by tasting are possible by previous appointment.
Sour is funny One of the best brandy and vinegar producers in Austria calls the Volcano Land his home: His name is Alois Gölles. His business can be visited at any time with previous appointment. Where else is it possible to look over the shoulder of a master of his trade at work? Gölles' vinegar varieties are not only well known among Austria's top chefs, they have long since earned an international reputation among professionals and gourmets. The selection of pure sorts of fruit vinegar such among professionals and gourmets. The selection of pure sorts of fruit vinegar such among professionals and gourmets. The selection of pure sorts of fruit vinegar such among professionals and gourmets. The selection of pure sorts of fruit vinegar such among professionals and gourmets. The selection of pure sorts of fruit vinegar such among professionals and gourmets. The selection of pure sorts of fruit vinegar such among professionals and gourmets. The selection of pure sorts of fruit vinegar such among professionals and gourmets. The selection of pure sorts of fruit vinegar such as pear, apricot, and quince and barrel-aged varieties such as balsamic vinegars from apple, pear or wine is huge. They can be tasted on-site and, of course, purchased, just as is true of the widely acclaimed fine brandies by Alois Gölles. Nowadays, you can also spend the night at the Gölles establishment. Not in his private quarters, of course, but in the new epicure hotel Riegersburg. The hotel offers practical packages with tasting tours in the area, including trips to wine bars. A Styrian salad, perhaps with the typical large spotted beans and the best vinegar would be unthinkable without pumpkin seed oil. The "black gold" is made from carefully ground and roasted seeds of the oil pumpkin: With its dark green color and aromatic nutty flavor it is a typical ambassador of the region. Several oil mills offer tours and tastings.
Sweet finale It is but a moment to a sweet chocolate paradise. There are three reasons to visit Josef Zotter's chocolate factory in Bergl with a view of the Riegersburg. You can watch the production live, you can sample all of the products in tiny little pieces and you can buy the products to take home. With remarkable determination Zotter has been able to switch his entire chocolate production to an organic and fair-trade basis. He has become one of the few bean-to-bar producers in Europe. He buys raw cocoa from certified organic and fair trade operating plantations and roasts, grinds, conches and completes the process here in the middle of the Styrian Volcano Land. The entire process of producing the hand-made, filled pieces of chocolate and pralines can be observed first-hand – upon prior appointment
LINKS:
www.vulkanland.at – Complete information on the region, such as events and starting times as well as the new hiker's guide with over 400 identified hotels, wine bars and accommodations can be acquired here: www.karte.vulkanland.at – Practical virtual map of the Volcano Land
Since 1972, the fish restaurant Varga has been serving freshly caught fish with an exceptionally wide variety of delicious seasonal side dishes. Not to be missed.
In Austria's largest wine-growing community with some 200 vintners lives one of Lake Neusiedl's last remaining fisherman, Emmerich Varga. Since 1972, the Varga family has been serving freshly caught fish with an exceptionally wide variety of delicious seasonal side dishes. One specialty of Europe's largest steppe lake is the zander. At the Varga fish restaurant, it can be ordered roasted or baked in whole or au bleu. By advance order and depending on the day's catch, wels catfish and pike are also available. Typically, the fish are simply served with parsley or buttered potatoes, with a bit of garlic butter and a mixed salad.
Other fish from Lake Neusiedl such as wild carp and eel are prepared on a seasonal basis, accompanied by chanterelle mushrooms or fresh fruits and vegetables from the Seewinkel region during the summer. Hor d'oeuvres at Varga include deep-fried carp milt, which resembles veal sweetbreads in terms of consistency and color, or 'halászlé', a traditional Hungarian paprika fish soup. The Pannonian fish paprikash, served with colorful paprika sauce, gnocchi dumplings and salad is also wonderful. To round things off, enjoy the homemade sorbet. The wine-growing area of Gols offers a wide range of wines, which are represented on Varga's wine list. There is also local beer from Gols, along with unfiltered juices from the region.
Contact:
Fischerei-Restaurant Varga
Untere Hauptstraße 123
7122 Gols, Burgenland
The Markterwirt is the sort of place people think has probably been there for ever – and yet time has certainly not stood still.
In the shadow of the church tower, so to speak, stands the oldest house on the Market Square in Altenmarkt – the Markterwirt. The strategic location on the old road over the Hohe Tauern mountain range has always attracted travelers seeking a place to stay, including such prominent guests as Emperor Kaiser Franz Josef I and Sir Edmund Hillary, the first man to climb Mount Everest.
But even if you're not famous, you can still enjoy a plate of roast, dumplings and game from the owner's own hunting grounds or fish from Lake Zauchensee in the cozy dining rooms. And on the subject of fish: Fly-fishing enthusiasts who want to try their hand at catching a trout in the restaurant's own waters are also welcome. The Markterwirt has also recently become a traditional alpine tavern: The new beer bar, is a popular meeting place for old and young.
Contact:
Markterwirt
Marktplatz 2
5541 Altenmarkt im Pongau, Salzburg
In the opinion of many gourmets, Karl and Rudi Obauer are the most successful brothers in the country. Year after year, their restaurant reaps critical acclaim in national and international gourmet guides.
Put simply: There are few better places to eat in Austria than at the Obauers. Or in more detail: The brothers have been awarded 4 toques by Gault Millau, 5 crowns by the gourmet guide A la Carte and 2 stars by the Michelin Guide, not to mention a host of other prizes, for their culinary creations. Karl and Rudi Obauer opened their restaurant in Werfen in 1979 and their cuisine is as exciting and trend-setting today as it was then.
Culinary art as practiced by the Obauers is distinguished by a use of regional products, the artisan principles of grande cuisine and a lively interest in blending flavors from all over the world. All these qualities are manifested in both the house's well-known classic dishes, such as trout strudel, sheatfish with roast potatoes and Werfener lamb and the sensational new creations.
Contact:
Restaurant Hotel Obauer
Markt 46
5450 Werfen, Salzburg
The Schilcherland with its vineyards and authentic local wine taverns combines all sorts of delights, and not just of a culinary nature: The Rauch-Hof, offers an idyllic place to stay, outstanding food and unusual cultural experiences.
Amidst beautiful verdant countryside, not far from the vineyards that used to belong to Archduke Johann, guests can look forward to cozy dining rooms, a secluded garden and gourmet cuisine that has been recommended by Gault Millau and Slow Food Styria. Head chef Karin Rauch uses only regional products such as the asparagus and pumpkins that grow behind the house and fresh fish taken from her own ponds. Host and certified sommelier Willi Rauch selects the matching wines. As a 'Kulturwirtshaus' the inn hosts a varied programme featuring well-known artists and performers from all over Austria, such as the Cooking and Reading event with renowned authors. Guests wishing to stay a little longer will sleep peacefully in the "vintner-style" rooms in two charming renovated farmhouses with their wooden furniture and spacious bathrooms, while the new "vintner-style" room in the main building also boasts a huge roof terrace and an appealing mix of traditional and more modern furniture.
Contact:
Rauch-Hof
Wald-Süd 21
8510 Marhof, Styria
Everyone knows that wine and food are a marriage made in heaven. At the Sattlerhof, they discovered this a long time ago. For more than 20 years, this happy symbiosis has been celebrated here—and the Sattlerhof is a wonderful place to stay too.
The Weingut Sattlerhof is a pioneering operation in southern Styria. Year after year, Willi Sattler's wines are amongst the best in the country. But wine alone is not enough. Which is why more than twenty years ago his brother Hannes opened the Restaurant Sattlerhof, which in 1990 became the first restaurant in the region to be awarded a Gault Millau toque.
The idea has remained the same: to produce creative, yet down-to-earth cuisine using high-quality natural, organic ingredients to complement the wines of the Sattlerhof vineyards. And the family achieve this goal with remarkable consistency, and ever since they expanded their ensemble on the Sernauberg to include a beautifully furnished country guesthouse, it's fair to say they have created a complete work of art dedicated to pleasure. As far as the restaurant itself is concerned, food ranges from traditional hearty fare with soup and Sunday roast at weekends to exquisite multi-course menus in the gourmet restaurant.
Contact:
Weingut Sattlerhof
Sernau 2
8462 Gamlitz, Styria
Behind the massive, thick walls of this sedate country house in the center of Trautmannsdorf is a traditional, down-to-earth inn—albeit one that serves some of the best food in Styria.
Sonja, the landlady and Richard her brother, who is also the chef, are a congenial team. She keeps everything running smoothly with her brisk charm and is always ready to recommend a matching wine or suitable schnapps from her extensive collection, while he provides the culinary delights.
Whether you fancy something hearty, filling and down-to-earth such as beef roulades, roast pork and suckling pig, or something creative, where international luxury foodstuffs are combined and prepared with consummate skill and imagination – Richard Rauch, who learned his craft in the some of the best restaurants in Europe, proves that he is a master of his art in every category.
And if you feel there's simply too much to choose from, then just ask Richard to "rustle something up" and let Sonja choose some matching wines for you. The kitchen is supported by the family's own butchery (which first bred the "Johann pig") which supplies an abundance of sausage and bacon products, all of which can also be purchased here.
Contact:
Steirawirt
Trautmannsdorf 6
8343 Trautmannsdorf, Styria
After establishing a formidable reputation at the Hotel Intercontinental, Manfred Buchinger has launched his own gastronomical institution in the Weinviertel with his "Old School".
Ultimately, he'd had enough of grand cuisine with ingredients from around the world and the air of high society: after many years, Manfred Buchinger decided to leave this form of culinary art behind and set about exploring his own culinary philosophy at the Old School in Riedenthal.
Buchinger's success is founded on three pillars: intimate knowledge of the products, an unpretentious approach by the chef and kitchen staff, and creativity in working with well-known, traditional ingredients.
He loves to initiate guests into his idea of cuisine, for example at the event "Running Weinviertel" (which is now held in combination with the Eva Rossmann's new crime story "Unter Strom" or "Auf ins Waldviertel"), where he serves up to ten small dishes, accompanied by the appropriate wines. When it comes to wine, Buchinger is not such a fan of big names. n the other hand, guests can be sure that they will discover interesting new regional winemakers when they visit the Old School.
And with food like sausage pancakes, Veltiner bread soup, boiled organic beef or crispy duck, and meatless dishes such as creamy chanterelle mushrooms with bread dumplings, it's easy to find the time to sit and relax a little bit longer.
Contact:
Gasthaus Zur Alten Schule
Wolkersdorferstraße 6
2122 Wolkersdorf, Lower Austria
You won't see any monks in this hermitage nowadays, but instead, what you'll find is a hotel that enjoys heavenly views that stretch far into the distance, a sinfully good inn and wines that you'll remember with fondness until the Day of Judgement comes.
Helmut Qualtinger and "half the celebrities from Vienna" once enjoyed the view here, looking out over Lake Neusiedl, while eating fried chicken and drinking fine wine. Indeed, the famous fried chicken is a permanent fixture on the restaurant's menu even today. It also serves a variety of classic hearty meals, such as dumplings with greaves and a side of coleslaw, or shoulder blade of organic beef braised in red wine.
Wolfgang Schwarz admits that his restaurant is an "authentic inn of days gone by" – but he only serves up dishes of outstanding quality prepared with specially selected regional and fresh produce. He's even got a friend, for instance, who always catches and supplies Kloster am Spitz with the best pike-perch, catfish and eels. Thomas Schwarz, meanwhile, supplies distinctive organic wines which are a deliberate expression of the Burgenland region and impressively stand out from mainstream products.
The family-run establishment, coquettishly marketed as a "low-budget designer hotel", is considered to be a feel-good base for going off on day trips. With the exception of two spacious top-floor suites with glass façades, the rooms are admittedly somewhat on the small side, but they're big on stylish furnishings.
Contact
Hotel-Restaurant Kloster am Spitz
Waldsiedlung 2
7083 Purbach, Burgenland
The historic village inn in the village of Stumm, home to skiing legend Stephan Eberharter, has an offer which almost all are happy to accept: to relax and enjoy.
One stands before this wonderful old house in awe, thankful that such houses still exist. First documented in the year 911 and vested with rights to serve drinks since 1506, the Linde is one of the oldest taverns in Tyrol. Nowadays, the Linde has a toque rating and offers the finest in traditional Tyrolean cuisine with creative, modern flair, in addition to a spacious outdoor garden area, a wine cellar open to guests, its own farming production and cozy, one-of-a-kind guest rooms.
Contact:
Gasthof Linde
Dorf 2
6275 Stumm, Tyrol
In the winter, skiing is the only way to get here, and it's best to spend the night since the culinary delights at the Angerer-Alm are almost impossible to resist.
Once known as the highest farm in the St. Johann area, this over 200-year-old alpine chalet is now among the most unusual in all of Austria. During the day guests can enjoy the view of the valley below with a plate of hearty Tyrolean food such as "Kasspatzl" cheese ravioli, bacon dumplings or sweet Kaiserschmarrn shredded crepes on the terrace, but in the evening there are also multi-course gourmet meals on offer. There's no set menu: whatever the region, the farm's dairy, the herb garden and the local farmers have to offer is what comes out of the kitchen, fresh, regional and in season. In her role as host and sommelier, Annemarie Foidl also always makes sure that guests never go thirsty, thanks to the wine list with some 450 options.
Contact:
Angerer Alm
Almen am Kitzbueheler Horn Nr. 5
6380 St. Johann i. T.
Tucked away in a quiet side street is one of Vienna's culinary highlights: the Giorgina.
Tucked away in a quiet side street off the Herrengasse, not far from the Minorite church is the Giorgina. This young restaurant has already won a dedicated following with its consistently high quality, daily changing menus and friendly service.
The menu offers a small but exquisite selection of vegetarian and meat dishes. And with plenty of well-prepared seasonal vegetables, vegetarians feel instantly at home in the Giorgina too. The crispy deep-fried porcini mushrooms served on a bed of lettuce or the marinated vegetables with buffalo mozzarella are simply superb. But the menu also includes beef bouillon with classic garnishes such as meat strudel and pancake strips.
Or how about some chanterelle mushroom risotto or a rocket-polenta served with porcini mushrooms and soft cheese? And, of course, Viennese classics such as chicken liver and 'Tafelspitz are a must as is the beautifully fried juicy Mangalitza tenderloin that is served with Marchfelder asparagus. Although the choice of desserts is limited, the homemade apple strudel or amaretto panna cotta are the perfect treats to round off your meal.
Contact:
Café Restaurant Giorgina
Bankgasse 2
1010 Vienna
The bistro is a wee bit hard to find, hidden away atop the old city walls of Vienna. Yet with its romantic garden, it is a popular watering hole for a very diverse clientele.
The city walls are about 300 years old; and what is now the well-frequented MuseumsQuartier, housed the imperial stables and military installations during the Habsburg monarchy. The bistro, which originally opened after the second world war as a city wine tavern, is named after the 'Glacis', an open space in front of the city walls. Nowadays, it is home to a contemporary cuisine which reinterprets Viennese dishes with a fresh and original twist.
Of course, the old favorites including the classic goulash with delicious crispy bread rolls, minced veal butter schnitzel, boiled or other beef dishes (sourced from organic farms in the Waldviertel) and served with traditional side dishes can all be found on the menu. But the more "fluid" aspects of running a restaurant – from a perfectly poured beer to the exquisite selection of brandies and ambitious wine list are handled with equal skill and aplomb.
Contact
Museumsquartier
Museumsplatz 1
1070 Vienna
Halbturn village in Burgenland is home to vineyards, fields, lanes lined by wine cellars and the famous baroque castle. And at the heart of all that, you'll find Bliem'sWohn.Reich. It's the perfect place to relax and simply enjoy yourself in Seewinkel National Park – whether you're sitting in the 150-year-old wine tavern or at the door to the farmyard.
It doesn't even take an hour to drive from Vienna to Seewinkel. But by the time you arrive there, you'll find yourself in another world. In other words, it's the perfect place to slow things down – especially if you're stopping off at Bliem's. And you'll realize that as soon as you set foot in the pretty atrium, wander through the inner courtyard and then enjoy your first sip of regional fine wine or organic juice under the shady trees. Gisela and Josef Bliem believe that it's very important to source their produce locally.
Almost everything served in their hotel comes from Burgenland. They get their honey and eggs from neighbors, their bacon comes from Mangalitza pigs kept in the next village, and "tomato king" Erich Stekovics from nearby Frauenkirchen supplies them with jams. If you'd like (and have registered in good time), you can even attend a Pannonian cookery course with the hotel landlady or sample wines from the surrounding area in the wine cellar, which has a pressing room next door. The hotel has a total of 14 rooms and one suite, which are all situated around the tranquil inner courtyard and have been furnished in warm, bright colors.
Active holidaymakers will love the hotel's bike shed, where there are also e-bikes available to borrow. A professional bike specialist even maintains any bikes that guests bring with them if required. Of course, you can also borrow a Bliem's bike and pedal off to discover the diverse steppe and wine landscape. Water sports enthusiasts, meanwhile, will love the fact that the hotel is right next to Lake Neusiedl, where there are a multitude of bathing beaches, surfing schools and sailing schools just waiting to be discovered. Guests will also have plenty of opportunities to sample the outdoor activities the region has to offer – after all, Seewinkel is blessed with 300 days of sunshine per year, making it Austria's sunniest region.
Contact
Bliem's Wohnreich
Erzherzog-Friedrich-Straße 40
7131 Halbturn, Burgenland
The Bergsee is calling. The family-run, 4-star superior hotel is also a 4-smiley, child-friendly hotel right on the sunny side of the Lake Turrach in the Nockberge National Park. Here you can find the perfect combination of skiing and relaxation. Skiing with optimal ski conditions is guaranteed thanks to the altitude.
Although the Seehotel Jägerwirt has a tradition spanning more than a hundred years, the hotel is constantly developed, but always with an eye to its roots. The Brandstätter family wish to offer their guests something extraordinary, which began by reconstructing the main building with a relaxation and beauty center, the opening of the Aquarena as well as the building of an outdoor pool, which is heated and can be used all year round.
A real gem is the Bali private spa, which offers a beach vibe and tropical atmosphere during winter holidays. Enjoy a cup of ginger tea and a beauty treatment with turmeric, cinnamon and coriander to the sound of Indonesian music and then relax in a four-poster bed. This all fits in with the motto: menikmati – a whole lot of relaxation, recuperation and enjoyment. Parents can spend the day relaxing in the spa, as kids enjoy the best of supervision in the Cartoon Elephants club with indoor climbing walls, a giant slide reaching two stories, a bouncy castle, petting zoo and theater, or alternatively in a wizardry and swimming class.
The action-packed Deer Camp is on offer during the summer holidays for children between the age of 10 and 15, where they are encouraged to partake in skill-based games, team-building activities and abseiling. In winter, let off steam in the new free-ride park. The fantastic range of games and sports for adults and kids alike is not the only impressive feature; every family member can find their retreat in the spacious family suites with two bedrooms and two bathrooms, a tiled stove in the living room and infrared sauna.
The kitchen team cooks up fantastic meals in accordance with the highest standards of quality. The Seehotel Jägerwirt obtains some of the products from its own farm, and with some game dishes there is the advantage of trying out the hotel's own shoot. The kitchen team also displays a lot of creativity when it come to the use of Swiss pine. For example, pine foam soup, fillet steak on mashed potato with a pine aroma and pine ice cream parfait are all served in the restaurant.

The well-known piste butler also appears as an Alpine pasture butler in the summer. On the guided butler hikes, the "mute servant" ensures many pleasant surprises. The luxurious Seehotel Jägerwirt is a partner of "Allergenfrei Leben" ["Allergy-free Life"] and invites you to enjoy a holiday free from allergies.
Contact
Seehotel Jägerwirt
8864 Turracher Höhe 63, Styria
http://www.seehotel-jaegerwirt.at
Petite, exquisite and anything but ordinary. At the Hotel zum Dom in Graz, guests relax in the colorful and artistic surroundings of a time-honored city palace.
How about "the pubescent king" or perhaps the "real love", the "longing frogs", the "happy farewell" or the "red exotic"? The guests at the boutique hotel, Hotel zum Dom, are spoiled for choice. There are 29 rooms and suites to choose from, all furnished in a completely different way and each given its own name. Guests' curiosity is already sparked upon booking in terms of what awaits them behind the room door.
What is more, the hotel offers the highest standards of comfort. Some of the rooms, which are up to 113 meters squared, even have roof terraces, jacuzzis as well as their own dining or meeting room. And if that is not enough, they are also painted in sky blue, pastel pink, lemon yellow, mint green and other unusual colors, and furnished with all kinds of other unconventional, interior-design details.
This makes Hotel zum Dom the preferred hotel for trendsetters, but guests who value tradition and history can also feel at home here. As guests sleep and dine in a palace, whose foundation walls were built in the 15th century, they can expect to be greeted with Gothic vaults in the restaurant as well as with original rococo moldings in some suites. The hotel itself does not have a wellness area. You can exercise, swim and use the sauna at the nearby gym, John Harris, at a heavily discounted rate.
Contac
Hotel zum Dom Graz
Bürgergasse 14
8010 Graz, Styria
Living tradition in the first hotel on the Dorfplatz. The Krone in Hittisau has been one of the most prominent hotels in Bregenzerwald for over 170 years. The last renovation made some new changes – what didn't change, however, is the hearty hospitality, the first-class cuisine and the typical wood tile facade.
Which room – cuddly, arty or designer? In the Krone in Hittisau, guests can choose between 5 categories of room – a good night's rest is always guaranteed. No matter if you go for classic ambiance or for a stylish modern interior, all rooms have been fitted with indigenous timbers by master craftsmen and integrated perfectly with existing building materials.
Such harmony and proximity to nature are vital for Helene and Dietmar Nussbaumer, the third generation to run this family hotel. This applies not just for sleeping well, but also for good food. No wonder then that as well as being a member of the Bregenzerwald Käsestrasse (Bregenzerwald Cheese Route), the Krone also belongs to a group of eight businesses in the Bregenzerwald region calling themselves "MundArt", who feel bound to honor the authentic natural cuisine of the region where possible.
Food is served in three dining rooms at the Krone, each with its own style – from the wonderfully rustic and minimally contemporary to the sophisticated and intimate. After dining you can unwind by the fireside in the library and enjoy the views in the quiet hours with a fine red wine. Or you may wish to relax in the sauna – after all, a day in the Bregenzerwald can be taxing: whether its walking, golfing or biking in summer, or skiing cross-country, hiking or downhill in winter – every sporting activity is available on the hotel's doorstep.
In addition there is a wealth of cultural sights and institutions to be explored in the surrounding area. Here's a tip: attractive packages for gourmets, golfers and culture vultures are available on the Krone's homepage.
Contact
Hotel Krone
Am Platz 185
6952 Hittisau, Vorarlberg
Situated not too far away from the Art Mile of Krems and directly opposite the Krems campus of Danube University Krems, harmoniously embedded between the vineyards of the Krems Valley, the Kamp Valley and the Wachau Valley, you'll find arte Hotel Krems, a perfect meeting place for lifestyle and design.
arte Hotel Krems represents the new generation of trendy lifestyle hotels, where art is part of the hotel's name and thus its corporate culture too. Being a contemporary meeting place for lifestyle and art, the hotel surprises its guests with slanting exhibitions from regional and amusing artists including Marcus Hafner, Feinhirn or Bernadette Rosa Müller. Trading under the motto "chic and young", arte Hotel Krems is the central starting point for discovering the Wachau Valley. Right on the hotel's doorstep, there's a practical three-gear next-bike hire station, where cyclists can borrow and return the bikes around the clock. Work, relax and enjoy.
The modern, bright and unconventionally designed rooms are furnished for this purpose, and are all equipped with an individually adjustable air-conditioning system and shower with a separate toilet. The terrace rooms are ideal for rounding off an eventful day, sitting in a comfy lounger with a glass of specially selected wine in your hand. In the tower studios, meanwhile, guests enjoy a wonderful view of the vineyards. The hotel bar is also perfect for a relaxed end to the evening – with a glass of homemade culinary snacks and regional fine wines. The hotel itself houses a massage and beauty parlour, as well as the "Körperkult" fitness club with sauna and steam bath.
Contact
arte Hotel Krems
Dr. Karl Dorrek-Straße 23
3500 Krems, Lower Austria
Focus on better health with an individually customized program. The future of lasting well-being can be found in Tyrol.
Change occurs gradually and ideally on a holistic level. Hence the architecture of the Lanserhof seeks to beam you to a healthier life by means of harmonious forms, naturally finished materials, dulcet colors, joint-less floors and attention to details. Awaiting guests is an indoor climate free of electromagnetic pollution. For the "medicine of the future" Düsseldorf architect Dr. Regina Dahmen-Ingenhoven has designed a futuristic medical, therapeutic, and beauty center spanning 1,500 square meters, which due to its subtlety, originality and flow holds a number of surprises.
The instantaneous effect of a change of scenery is aimed at promoting lifestyle change and development. This is the business of the Tyrol Healthcare Center and has made it into one of the most preeminent names in regenerative and preventative medicine in the last 20 years. The gentle healing methods are based on modern F.X. Mayer medicine, advanced medical science and trans-cultural therapies. In the vicinity of the Lanserhof you will find 3 golf courses (one 18-hole and two 9-hole courses).
Contact
Lanserhof
Kochholzweg 153
6072 Lans bei Innsbruck, Tyrol
Fancy holidaying in a mountain hut? In Almdorf Seinerzeit, high up in Carinthia's Nock Mountains, guests don't have to worry about doing without their privacy or lots of luxury despite the authentic Alpine ambiance.
21 free-standing Alpine huts, four "imperial hunting lodges" and three chalets with private saunas and steaming "hot tubs" right at the front door. Almdorf Seinerzeit, situated at 1,400 meters above sea level, is a dream come true – like something lifted straight out of a picture book. In winter, the snow falls outside, while inside the fire crackles merrily in the fireplace.
And in the morning while you're turning over and getting cuddled back down in bed again, downstairs the tiled oven is already heating up nicely and breakfast is being prepared. Later on, you can start off by treating yourself to a stimulating herbal bath in the closed wooden tub inside the "House of Senses", then sink into the fragrant hay bath for one or two and chill by candlelight, and finally relax in the Panorama Sauna and enjoy views of the peaks opposite or watch children skating on the frozen village pond.
And at night, why not head down to the nostalgic guest house, where you'll exclusively be served delicious products from neighboring farms? Alternatively, you can dine in the "Holzknechthütte" (woodcutter's cabin), the smallest restaurant in the world with room for just two guests and the chef. The multi-course menu is prepared over an open fire. You can even make the Almdorf your home for a short time in the summer. Your senses are simply revived – reduced to the absolute essentials. Smell the hay, feel the air, take it easy and find peace. Guests are also invited to attend seasonal traditional courses, such as bacon cutting, woodcutting or cookery classes. And there's the chance to go on wildlife safaris and guided hikes too.
Contact
Almdorf Seinerzeit
Fellacheralm
9564 Patergassen bei Bad Kleinkirchheim, Carinthia
High above Achensee Lake, the Asi Lodge stands out with its both unique and innovative mix of stylish ambiance as well as its traditional Tyrolean hospitality, alpine spa treatments and variety of sports facilities.
Snowshoe walking, cross-country skiing, snowboarding or maybe simply just downhill skiing in the Rofan mountains ski area? At the Asi Lodge guests are spoiled for choice between the various outdoor sporting activities, which are offered daily and with a discount by the guides from the Innsbruck Alpine School. And if that is not enough: yoga, pilates, qi gong and other less intense sports are also available. Instead of all that, you may just wish to relax in the sauna, steam bath or massage parlor.
After this program of activities there is the splendid five-course evening menu to look forward to. Regardless of what you opt for, the main thing is to make it to the fireplace bar afterward, where the day's most beautiful photos are presented via a slide show. The close connection between hotel and nature is apparent in the Asi Lodge.
From the large panoramic windows, opening on to the mountain scenery, past the large chill-out terrace to the native timbers from which the facade and interior furnishing are built: in this hotel the contrasts between modern architecture and millennia-old nature as well as between sporting activities and moments of rest and meditation are woven harmoniously together.
Contact
Aktiv Hotel ASI Lodg
6215 Steinberg am Rofan 30, Vorarlberg
From a dated traditional guesthouse to a 4-star superior designer and wellness inn. That the Sonne or 'Sun' Hotel in the Bregenzerwald forest is shining today as strongly as ever is all down to the long-term vision of its owner and the commitment of its staff.
When Nobert Bischofberger discovered in 2006 that the Sonne Hotel in his hometown of Mellau was up for sale, he did not hesitate long. It had after all once belonged to his family – and for Norbert, inventor of the anti-flu drug Tamiflum, the financial resources necessary for the renovation were at hand. The work lasted two years and entailed the stripping down, restoration and detailed refurnishing of the entire older part of the hotel.
The historic, wood-tiled main building today houses a restaurant credited with a Gault Millau toque award along with a bistro and a cozy wine cellar, where guests may sample wines. Living and wellness come together in the loft-style extension, which was built almost exclusively from the timbers of indigenous silver firs and oaks and won the Vorarlberger prize for a wooden structure only a year after its construction. The 38 superior bespoke rooms contain open-plan bathrooms with large wash basins and spa showers. High quality mattresses and beds made of natural fibers make for a restorative night's sleep and are also suitable for allergy sufferers.
Situated in this wing is a large wellness and spa area with an outdoor sauna building as well as a combined indoor and outdoor pool which is heated in the winter. Here's a tip: the Sonne resort offers many tailor-made special deals for winter sports enthusiasts, gastronomes and weekenders. A look at the hotel's website is highly recommended.
Contact
Sonne Lifestyle Resort
Übermellen 65
6881 Mellau im Bregenzerwald, Vorarlberg
The Kärtnerhof is situated at the heart of the Viennese old town, only a stone's throw from St. Stephen's Cathedral – a hotel for price-conscious travelers with a preference for style, elegance and top service.
The hotel describes itself on its website as "a three-star hotel in a five-star location". And really, you could not find a more central yet quiet hotel than the Kärtnerhof in Vienna. If you are not convinced, then take a stroll onto the rooftop terrace and enjoy the views of the baroque towers of the Heiligenkreuzerhof and busy surrounding side-streets. Here you are at the center of it all, and yet also somehow above it all. Apropos above: For the trip up and down you must try the mahogany paneled and brass-bound lift dating from the turn of the 20th century. Or opt instead for the stairway and soak up the art nouveau embellishments on the windows, doors and ceilings of each of the five floors.
The hotel's rooms and 3 suites are decorated in a similar style, which demonstrates impressively that old need not necessarily mean worn-out, but rather well-cared for and lovingly preserved. The hotel's quiet location means you will wake up refreshed, and go downstairs to find a rich buffet breakfast made from plenty of local produce. What will also impress guests is the reception staff who are second to none, and that includes luxury hotel concierges. Whether it is obtaining theater tickets, reserving a restaurant or simply mapping a romantic walk from A to B in the Kärtnerhof, these service professionals are on top of their game. And where the friendly staff cannot be of further service, there is always the internet which is available free of charge on the hotel's laptop in the library or in every room.
Contact
Hotel Kärntnerhof
Grashofgasse 4
1010 Vienna
The fact that it is ideally located on Lake Fuschl, is nearby to the festival city of Salzburg, has the largest private spa in the Salzkammergut and excellent cuisine makes the Waldhof a worthwhile destination at any time of the year.
Whether it's ice-skating in winter, golfing in spring, bathing in the summer or hiking in autumn, there are very few hotels that offer as much variety as Ebners Waldof. Its unique location by Lake Fuschl certainly has something to do with this. Whoever wishes to can relax here on the private lake beach or can be rowed out onto the lake on a wooden boat. On cooler days, the idyllic lakeside trail or the Waldhof golf club at the Hotelalm beckon high above the 4 kilometer by 900 meter Alpensee.
When the weather doesn't allow for outdoor activities, there is the enormous wellness area of the 4-star establishment on two floors with six different saunas, an indoor pool and an outdoor brine pool with underwater music that is heated to 32°C all year round.
The water world includes a torrent with a waterfall and whirlpool. A real wonder is the way the herb kitchen, in which the wonderful greens are transformed with the help of steam distillation into healing and soothing herbal water.
It is not only hot in the 4,000 square meter wellness area, but also in the cooking pots of the three hotel restaurants. Depending on which one you choose, there are either traditional Austrian delicacies or light and healthy dishes on the table.
Contact
Ebner's Waldhof am See
Seestraße 30
5330 Fuschl am See, Salzburg
Less is sometimes more – this was the thinking of the owners of Kitz Garni when they set about bringing the hotel to life. They reduced the number of guestrooms by a third and transformed the old three star inn into a four-star boutique hotel.
Upon entering the Kitz Garni it is immediately apparent that the approach is a little different here than in many other hotels: Instead of the usual reception desk, where you check in standing up, there is a colorful, upholstered wing chair and large rustic table where all the formalities can be taken care of in seated comfort. From here you can proceed into a small lounge decorated in modern alpine style – a perfect spot for a lunchtime Aperol or a glass of red wine in the evening. On the floors above are located the double rooms and the larger wellness double rooms – all furnished with free WLAN and a balcony.
In the cellar, a small but smart spa area serves as a wellness spot offering all guests space to luxuriate in the infrared booth, sauna, chamomile blossom sanarium, steam bath and terrace hot tub. Complementing this is a tasteful quiet room with heated waterbeds as well as two treatment cubicles for massage and beauty treatments. Superb for nature lovers: The hotel has a unique vantage point onto the Bichlalm mountain, some 15 minutes' walk from Kitzbühel's old town. Hiking and mountain-biking tracks start right outside the entrance.
Skiiers can reach the valley station of the Hahnenkamm lift in 5 minutes by car. A morning treat before hitting the courses, pistes or trails: at the breakfast buffet, different specialties such as creamed trout caviar, salmon salad or potted homemade spreads are served daily. Pleasant after a taxing day: Although the hotel only offers breakfast, fondue specialties can be enjoyed in the lounge upon request.
Contact
Boutique Hotel Kitz Garni
Bichlnweg 44
6370 Kitzbühel, Tyrol
Boutique hotel, designer accommodation, a home for the well-traveled and those seeking pampering: all this (and much more) can be found at the Hollmann-Beletage – a Viennese gem in the truest sense of the word.
The hotel has just 25 modern and comfortably furnished rooms (most of which come with large open baths). Not a lot – but nonetheless enough to lend an entirely new tone to the capital's hotel landscape. The Hollmann, named after its founder Robert Hollmann, a one-time cook, baker and actor, is simply different and more distinct that other establishments.
You don't congregate here in some anonymous lobby, but rather in the "the living room" with its piano and library. And instead of an all-morning onslaught at the buffet, a several-course breakfast menu is served in the small, kitchen-style dining room. And if that were not enough: you can also spend an evening with friends in the hotel's home cinema, feel as though you have stepped into the Garden of Eden on the rooftop terrace, or have a sauna in the mini spa (lovingly given the Viennese nickname "Spa-tscherl" by returning guests) and watch the flames of the roaring fire.
And just around the corner you can find Hollmann's Salon, an award-winning restaurant, which styles itself just as unconventionally as the hotel and is located in one of Vienna's most beautiful baroque courtyards. Ecological. Regional. Seasonal. These are the three tenets of the cuisine. All this plus an unrivaled location in the old town, only two minutes' walk from St. Stephen's Cathedral, prompted the New York Times to give this hotel a complimentary mention. The largest honor the hotel has received came from the famously picky natives. As so many Viennese wish to stay here at least once, a package called "Viennese Lovers" has been launched to cater for them. It includes an overnight stay, candlelit dinner, prosecco, flowers and a late breakfast in bed.
Contact
Hollmann Beletage
Köllnerhofgasse 6
1010 Vienna
Here everything is 100% environmentally friendly, with clean air, a hygienic altitude, plenty of nature and an optional program of indulgence into the bargain.
The Austrian valley of Kleinwalsertal lies so close to a mountain range that it is only accessible from Germany. Until the introduction of the euro, the deutschmark was legal tender here. Originally settled by Walser speakers from Switzerland the alemannic dialect has been preserved here until the present day. The valley is the ideal holiday destinations above all for pleasure hikers and families, due to its many well-signposted trails and (for those with a Walser Card) free trail-orientated bus connections. A few years ago, Klaus Kessler converted his 500-year-old farm house into a hotel. Now modern timber constructions and contemporary design align with the traditional alpine architectural style. You can relax in the spa area with its Finnish sauna, laconium (dry sweating room) and multi-sensory showers along with the generously proportioned quiet room with hanging loungers. The alpine indulgence package provides luxury with its alpine salt-oil-herb peeling, a mare's milk and rose oil pack and salt bath with stone pine salt. The hotel is a member of the Bio-Hotel association. Added to this is the showcasing of regional culinary skill: all food comes from verified environmentally-friendly farms. One particular delight is the homemade rye and wholemeal bread. The hotel's facilities top off the cheerful atmosphere: guided hikes and bike tours, morning gymnastics, Nordic walking courses and also deep-snow skiing courses.
Contact
Naturhotel Kleinwalsertal
Gerbeweg 18
6992 Hirschegg im Kleinwalsertal, Vorarlberg
From simple guesthouse to award-winning boutique hotel: The Schwarzer Alder in Kitzbühel draws guests with its traditional hospitality, modern architecture and dream views over the entire city from the rooftop pool.
The Hahnenkamm downhill course or perhaps a hot stone massage? In the Schwarzer Adler you are spoiled for choice with Kitzbühel's 4 star superior inn offering both winter sports and spa enthusiasts the perfect holiday. After all, it is under five minutes from the centrally situated hotel to the gondola on the legendary mountain. Elsewhere the 1,000 square-meter Black Spa cannot fail to impress with its refined design, first-class treatments, and distinctive features such as the triadic massage room. In 2008 the Schwarzer Adler even claimed the Austrian State Prize for Architecture and the Travel Oscar for the best hotel nationwide after the expansion of its wellness area around the rooftop pool (the longest in the Alps) and the building of six modern, panoramic, cottage-style suites, each fitted with a private sauna or free standing bathtub. And the awards don't stop there: the hotel's own À la carte restaurant Neuwirt has received a star from the testers of the Michelin Guide as well as two toques from Gault Millau.
Contact
Schwarzer Adler Kitzbühel
Florianigasse 15
6370 Kitzbühel, Tyrol
Swapping the TV and computer for a book: the stylishly renovated estate in the Lienz Domolomites from the year 1672 is the perfect spot for getting away from it all, including the TV. The bed & breakfast hotel entertains guests with a mix of audiobooks, books and games.
The name says it all in Tschitscher, the hotel of games and books: Instead of a TV, guests will find a CD player in the room with which they can play one of 500 music CDs or over 450 audiobooks. If you prefer a classic book, the hotel's library has over a 1000 books to choose from, which guests can read in their rooms. There is also an constantly growing selection of English and Italian audiobooks and books. Each room has its own living area where guests can withdraw to read or listen.
Rooms are named after games like Nine Man Morris and Backgammon rather than numbered. If you wish to listen to an audiobook in the garden, you can borrow an iPod. Guests will find not just books and audiobooks but also a choice of 250 board and card games from the collection of hotel owner Dieter Mayr-Hassler. One of the special highlights of the collection is an oversized Ludo game in the garden and a 150-year-old skittles lane in the traditional parlor. When the ball fires at the pins from the wooden cannon, it is sure to excite both young and old.
To facilitate light-hearted gaming fun, the game-room as well as the dining room have extra large tables. The lounge is stylishly furnished with cozy armchairs and coffee tables and has a drinks buffet with a Nespresso machine. Between games you can discover the countryside of the Großglockner and Dolomite mountain ranges with its crystalline mountain lakes and green alpine pastures through hiking excursions or on the Drau bike trail (bikes can borrowed free of charge). In the winter, the tended 350km ski pistes, 400km cross-country runs across 6 multi-award winning ski areas, and numerous natural tobogan runs beckon holidaymakers – with the small family-run hotel in the middle.
Contact
Spiele- und Buchhotel Tschitscher
House number: 21
9782 Nikolsdorf, Tyrol
With its modern spa area and three different saunas, the Jagdgut Wachtelhof in Maria Alm is a place where you can truly switch off and recharge your batteries. Those who love exciting outdoor adventures are also catered for.
The Jagdgut Wachtelhof offers a chalet atmosphere at 1,000 meters above sea level. It is not hard to get away from everyday life here.
The interior design of the rooms bears the typical Alpine trademarks, combining old and new in an inspiring way and inviting you in with warm natural shades, the aroma of high-quality oak and Swiss pine and fine fabrics in a loden and traditional costume style, making you feel as at home as possible.
The spa area and the Aqua Lounge, which is completely glazed and thus provides a wonderful view of the surrounding mountain landscape, have a modern feel. There are various ways to relax and recover here.
A Finnish sauna is located outdoors in a rustic cabin. You can cool off afterward in the fresh snow or in the crystal-clear waters from a source belonging to the hotel. An outdoor, heated jacuzzi by the soothing stream and a herbal and an infrared sauna ensure deep relaxation. Unique experiences are also positively tangible – whether on the golf course nearby, biking on the mountains, skiing on the slopes in winter or snowshoe hiking with a private guide through the magnificent woods. Everyday life is simply far away.
Contact
Jagdgut Wachtelhof
Urslaustraße 7
5761 Maria Alm, Salzburg
Landgasthaus Jagawirt
The Jagawirt, high up in the idyllic Reinischkogel region of western Styria with its beautiful forests and vineyards, long ago gained a reputation as a local favorite. And it certainly lives up to its excellent reputation.
Not even its popularity with local and national celebrities has spoiled this restaurant. The Jagawirt is and always will remain the Jagawirt. The owners Maria and Werner Goach, who have jealously guarded over the establishment for decades will make quite sure of that.
In the cozy rooms of the tastefully adapted house, they serve country cooking built around what is available in the region and the season. Lamb and pork specialties are perennial favorites on the menu and the animals are all raised on the Goach's own farm, where Werner also distils the fine brandies that are served.
As well as the restaurant, the Jagawirt domain also includes a number of farmhouses and cottages: Beautifully restored Styrian farmhouses that now provide a perfect setting for a holiday, festivities or seminars.
Contact:
Jagawirt
Sommereben 2
8511 St. Stefan ob Stainz, Styria
A glass palace with panoramic views: as far as furnishings are concerned the Penz, situated in the heart of Innsbruck, resembles many other four-star designer hotels. The hotel's je ne sais quois can be found on the fifth floor where the bar and restaurant offer spectacular views of the city.
This panorama loses none of its charm in the morning sunlight, when you can enjoy it over a special breakfast. On offer are delectable pastries, exquisite ham, cheese and fish specialties and an especially large selection of exotic fruit, such as a pomegranate, prickly pears and pitahayas. Little wonder then that the Penz has become one of Innsbruckers' favored brunching spots. The hotel's superb location also deserves a mention – only a few minutes' walk from the galleries, museums, shops, and bars of the old town, not to forget its extraordinary, all-glass facade complete with panorama lift and its thoroughly friendly and amenable staff – from the informative receptionist to the attentive breakfast waiter, who had already noted this guest's favorite beverage by the second morning ("would you care for another Americano?"). A fashionable meeting spot is also the American Bar on the fifth floor, which serves the best cocktails in the city as well as a first-class selection of whiskies, gins and rums.
Contact
The Penz Innsbruck
Adolf –Pichler-Platz 3
6020 Innsbruck, Tyrol
The Kitzhof is situated just five minutes from Kitzbühel's chic city center. The relaxed tranquility of the 4-star hotel's modern alpine ambiance is, however, worlds away from the hustle and bustle of the hip, upmarket ski resort.
"Deer antler meets design" – this is the Kitzhof's somewhat unusual motto. What this means is that in the hotel's rooms and suites traditional tastes have been infused with the fresh and modern, while sacrificing none of the typical alpine comforts. Abundant natural light plays a big role in this as does the crackling logfire in the open-plan lounge, the animal hides spanning the walls, the untreated larch timber floors and the black and white photos of mountain motifs to be found on every floor.
The stylishly minimal wellness area is also in keeping with this design plan. The Kitzhof's four uniquely decorated restaurants are on hand to satisfy your culinary desires as is the hotel's open, reserve bottle cellar. In order to work off all those calories, Kitzhof has its own gym and Nordic walking equipment rental at reception – what is more, the 163-room lodge is located directly on the jogging track to the Schwarzsee lake. If you are feeling even more active, you will be spoiled for choice in summer between golfing, mountain-biking and swimming, and in the colder months between the extensive range of winter sports. Here's a tip: keep an eye out for the numerous special offers on the hotel's website – they range from the pre-Christmas "cinnamon biscuit breakaway" to offers for engaged couples and luxury spa days.
Contact
Hotel Kitzhof
Schwarzseestraße 8-10
6370 Kitzbühel, Tyrol
The Landhaus zu Appesbach was built in 1912 as a private holiday residence and later accommodated famous artists and even a former king! You can still sense much of this establishment's illustrious history even today in its stately salons, elegant guest rooms and suites, as well as on the enchanting hotel grounds with private access to Lake Wolfgang.
"It's a magnificent part of the world" wrote Edward VIII, King of the United Kingdom, to his future wife Wallis Simpson. And Thomas Mann was no less effusive in his descriptions of staying at the Landhaus zu Appesbach. So what was it about this 27-room hotel in the Salzkammergut that so enthralled these two well-traveled bon vivants?
The magnificent location with a sprawling sunbathing lawn right at the water's edge, the divine peace and quiet, far from the endless influx of tourists, and the sophisticated, historic atmosphere, which is less reminiscent of a hotel than of a holiday home belonging to a well-heeled friend. Still, it simply wouldn't do for guests to forego the comforts of a four-star superior establishment. In addition to a private tennis court and rowing boats, guests can also enjoy a small spa area with a Finnish sauna, organic sauna and steam bath. Yoga and hot stone massages are also on offer.
And in addition to breakfast and afternoon tea, a first-class four-course dinner based on modern interpretations of classic Austrian cuisine is served each evening on the lakeside terrace or in the restaurant. For guests who've got a taste for the extraordinary, why not book the original Windsor Suite or the Thomas Mann Room? Then you can feel like a real celebrity for the duration of your holiday! The hotel is a member of the Castle Hotels & Mansions Association.
Contact
Landhaus zu Appesbach
Au 18
5360 St. Wolfgang, Upper Austria
he people of Styrian Krakau still relish celebrating their old traditions and the impressive quality and sometimes creative dishes served at the Stigenwirth are certainly worth a celebration.
The inn has been owned by the Stiller family since 1897 and in the eighties was expanded to become a first class hotel. As of late, guests have been able to enjoy a magnificent view and superb alpine air from a panorama swimming pool that can be heated and covered. The owner and head chef Werner Stiller uses seasonal products from the Murau bio-region to create regional specialties and exquisite wholefood dishes, from spring onion soup, goat cheese pockets with herb butter, polenta rolls and cinnamon and sugar pastry with lingonberries.
The chef's Murtal beef, lamb, venison and Krakau mountain trout are a real treat for the palate and his raw ham rolls filled with celery and apple, asparagus terrine with crispy, marinated lettuce, and bouillon with a hearty bacon dumpling are a dream. And to end on a sweet note, how about some hay milk parfait with honey sauce and rhubarb and strawberry terrine with fruit dressing.
Contact:
Hotel Stigenwirth
Krakauebene 33
8854 Krakauebene, Styria
Wine culture means much more than simply drinking good wine. Take the opportunity to visit vineyards, a lane of wine cellars, winemakers' worlds of experience, or wine seminars to learn the truth about wine both in theory and practice.
The last two decades have seen wines in Austria constantly attaining better quality. As a result, domestic wines, whether Grüner Veltliner from Lower Austria, Styrian Sauvignon Blanc or Blaufränkisch from central Burgenland, have become insider tips even in Tokyo or New York. This has, however, had the side effect of making these premium wines extremely difficult for Austrians themselves to find. Those spending their holidays in Austria, however, will have enough opportunity to get to know Austrian wine better.
Visiting the winegrower The easiest way to do so is by visiting the winegrower's family. Austria's winegrowers are almost always family businesses. Their estates often blend traditional and modern architecture showing the vintners' readiness for innovation. Of course guests are welcome in the wine cellars and tasting rooms. If an advance appointment is made you will probably be led through the facilities by the owner or his wife and, of course, be invited to a wine tasting at the tour's end. The wines can range from the lightest varieties to rarities and the conversant visitor will have the chance to talk shop about vintage, weather and fermentation process. The less wine literate, however, need not worry: First of all it is quite easy to savour wines without a lot of words and secondly many of the details of the wine tasting will be remembered automatically. There are, by the way, excellent restaurants in wine growing areas. The epicurean experience doesn't end with the wine tasting. The winegrowers themselves will provide restaurant recommendations or you may consult one of the leading restaurant guides.
Cellars small and large If you're not satisfied with just one cellar, continue looking underground in some of the winegrowing regions of Austria. In the so-called "Kellergassen" in Lower Austria, the curious visitor can stroll from cellar to cellar tasting wines or also admire centuries-old huge arching cellars in castles and monasteries. The cellar of Klosterneuburg monasterynorth of Vienna – one of the oldest and largest winegrowing estates in all of Austria – lies an astonishing 36 metres (118 ft.) under the ground. The wine world of Northern Austrian Retzextends 21 kilometres (13 miles) under the city. And the Styrian Seggau Castle has one of the largest wine cellars in all of Europe: It is 300 years old, 72 metres(23 ft.) long and eight and a half metres (28 ft.) high.
Shared wine cellars Community vinotheks present another excellent opportunity to acquaint oneself with the most significant wines of a specific area. In this way it is easy to acquire an overview of all winegrowers and varieties of grapes. The visitor has time to study labels, gather information and, of course, sample the wines. Absolutely worth a visit are the WeinwerkBurgenland in Neusiedl am See, the Vinatriumin Deutschkreuz, the Weinquartierin Retz, the Vinofaktur in Ehrenhausen in southern Styria or the idyllic Gesamtsteirische Vinothek situated high above the Styrian hills overlooking St. Anna am Aigen. Vienna also has a large number of also has a large number of also has a large number of also has a large number of also has a large number of excellent, well equipped vinotheks such as the architecturally interesting Unger and Wein in the first district serving also excellent food.
A micro-cosmos filled with wine Old wine tradition and modern architecture are united in the wingrowers' worlds of experience, especially in Lower Austria. The Loisium in Lower Austrian Langenlois, the Sandgrube 13 in Krems, and the Domäne Pöttelsdorfin Burgenland all have the same goal – to experience wine with all of the senses and at the same time to impart knowledge. The lavish stagings in Loisium or in the Domäne Pöttelsdorf demonstrate clearly that the Austrians have known for a very long time how to make good wine. Passing on this knowledge and increasing the appreciation for the vintners' work is done here with ease. Hardly anyone can depart from one of these wine worlds without great admiration (or thirst). A very special kind of wine world has been created in Vienna: The Hotel Rathaus employs the theme" juice of the grape" in the entire building. Each of the 39 rooms of the widely acclaimed design hotel has an Austrian winemaker as patron – and their wines in the refrigerator.
Understanding wine Wine can also be studied in seminars. There is no need, however, to fear exams or tests while participating in this kind of education. Wine seminars combine theory and practice in a pleasant – and often quite funny – manner. They are organised primarily by the highly respected Weinakademie Österreich, but also by private institutes, vinotheks, and restaurants. The seminars start with an introduction to the characteristics of particular regions, continue with studying the emergence of the final product from grapevine to harvest, to fermentation and aging, and conclude with the bottling process. Beginners learn about how to taste wines, how colour, viscosity, aroma, and, of course, flavour reveal information about age, soil, extraction, grape variety and above all quality. That sounds complicated but with some guidance and practice one gets well versed in a special vocabulary. It should be noted that the acquired knowledge may have consequences: After having experienced wine in a special seminar one might have difficulty consuming wine of lesser quality. It is highly unlikely, however, that this could happen in Austria.
LINKS:
Stift Klosterneuburg: Stiftsplatz 1, 3400 Klosterneuburg, Tel. +43 2243 411-0, www.stift-klosterneuburg.at, info@stift-klosterneuburg.at
Vinothek Weinwerk Burgenland: Obere Hauptstraße 31, 7100 Neusiedl am See Tel., +43 2167 20705, www.weinwerk-burgenland.at
Loisium Kellerwelt (cellar world): Loisiumallee 1, 3550 Langenlois, Tel. +43 2734 32240-0, www.loisium.com
On an Austrian menu you will find not only regional specialties but also a number of dishes from the former crown lands of the monarchy. Sometimes not even the Austrians know the origin of their favorite dishes.
Austria's varied cuisine still shows vestiges of the former monarchy. Vienna was the prime culinary melting pot with its multi-cultural and multi-ethnic population of Hungarians, Bohemians, Slovaks, Poles, Croatians, immigrants from Triest, Dalmatia, Subcarpathia, Bukovina and Carniola or simply newcomers from Austria's modern day provinces. All of them came to Vienna, their tried and true recipes in tow. The best went on to become fully integrated into Austrian cooking. But the cooks in the crown lands, of course, also looked over the shoulders of Austrian chefs. This led to reciprocity benefiting both, a partnership that did not end with the downfall of the monarchy.
One of the first cookbooks containing recipes for all these dishes from the crown lands was "Die Süddeutsche Küche" – "Southern German Cooking" written by cookbook author Katharina Prato. She had started collecting recipes while accompanying her husband on business trips. When her collection was published in book form in 1858 it became a surprising best seller. Since a name change to "Der große Prato" – "The Great Prato" following World War II – her collection of recipes has been and is still found in Austrian bookstores.
No matter whether it was food scarcity that led to the invention of "Serviettenknödel" – bread dumpling mass wrapped in a large cotton napkin then boiled and cut into slices for serving – today they are as popular as their sweet Bohemian counterparts, the "Germknödel" – yeast dumplings. This dessert, often served as a main course, is usually filled with "Powidl" – thickened plum jam and served dusted with poppy seeds, melted butter and sugar. The only difference today between the Czech yeast dumpling and the Austrian is that the latter is larger.
Since the main sources for grains of the former monarchy are now on Czech land it is no wonder that desserts such as Topfengolatschen – filo-type pastries filled with a mixture of sweetened quark and often raisins, Bohemian "Buchteln"– baked, jam- filled yeast dumplings, "Powidltascherln" – sweet ravioli filled with Powidl, Mohnnudeln – large noodles made from potato dough tossed in butter, poppy seed and sugar, found their way into the royal cuisine.
While some of the dishes – perhaps due to their straightforward and simple preparation – have changed very little, others have undergone significant transformations. Take gulash (sometimes still spelled gulyas), for instance: The original "gulyas" was a Hungarian stew with beef, which has nothing in common with what is internationally known as "gulash." That world-renowned dish is known to the Hungarians as pörkölt. What caused the linguistic mismatch is a mystery. All we know is that Viennese Gulasch, as we know it today, did not develop until the we know is that Viennese Gulasch, as we know it today, did not develop until the we know is that Viennese Gulasch, as we know it today, did not develop until the we know is that Viennese Gulasch, as we know it today, did not develop until the we know is that Viennese Gulasch, as we know it today, did not develop until the we know is that Viennese Gulasch, as we know it today, did not develop until the we know is that Viennese Gulasch, as we know it today, did not develop until the early 19th century as brought in by the 39th Hungarian Infantry regiment stationed in Vienna.
The journey of the Austrian version of the Crêpe – the Palatschinke, which is somewhat thicker than its well-known French counterpart and usually served filled with jam or quark – was far longer. From France, the birthplace of the Crêpe, it was brought to Romania where it was called "placinta," and from there on to Hungary under the new name of "palacsinta" finally landing in Austrian kitchens as Palatschinken.
Further influences on Austrian cuisine and other Austrian cultural aspects came from Judaism. East Galicians for instance brought "gefilte Fish," a forerunner to the "gesulzter Karpfen" – jellied carp so popular in Austrian gourmet establishments. People who know both dishes will easily recognize the transformation the original dish has undergone, though the principle of preparation and main ingredient have remained the same.
"Beuschel" – the lung and upper intestines of the calf – is most likely also of Jewish origin. At least according to Austria's three-toque gourmet chef Ewald Plachutta and gourmet columnist Christoph Wagner, who have both long studied Austria's culinary history. It has become a delectable main course usually served with the "Serviettenknödel" mentioned above or the common dumpling of bread mass.
Even Vienna's staple dessert – the apple or quark strudel is an imported dish. It came to Vienna from Turkey by way of Hungary. Other Turkish imports include coffee, the "Kipferl" – a crescent-shaped pastry made from sweet dough – and countless spices. Corn, the South American staple was known as "Türkenweizen" – "Turkish wheat" – well into the 19th century and was made into "Türkensterz" – also called polenta in modern-day Austria. Ewald Plachutta would tell you that the right to the origin for polenta is unfairly attributed to the Italians, since it was being prepared in Styria at the same time.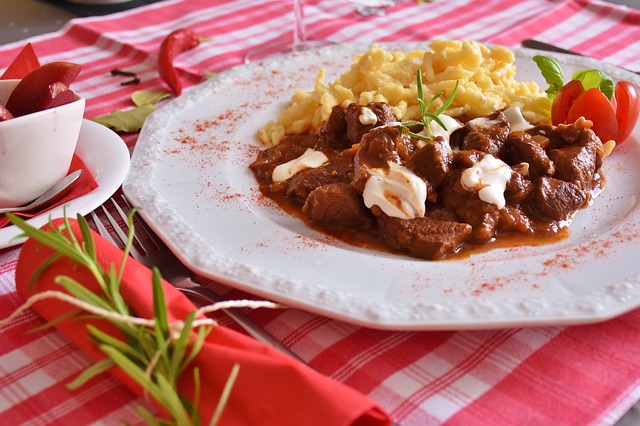 The Italians did, however, with their stewed meat inspire Viennese "Tafelspitz" – boiled beef, whereas Serbia brought "Reisfleisch" – a risotto on a beef basis – and many grilled specialties. The true origin of the Wiener Schnitzel, termed "eingebröselte Kalbsschnitze" – breaded veal cutlets – in Katharina Pratos's times is yet unknown. A plausible explanation is that it derived from the Viennese "Backhendl" – deep fried chicken breaded with flour, egg and bread crumbs – which has been fried with breading and by floating in hot oil since the 16th century.
Finally, a curiosity: Who would deny that snails are a French delicacy? Well, guess again. In the 18th century snails were almost an Austrian staple. They were made into snail dumplings, pâtés, salads, omelets and sausage and deep fried. FeeIing a little queezy? Then remember that there is a Styrian saying that promises higher male potency to men who take on the challenge of eating snails.
Restaurants – LOCAL RECOMMENDATIONS
Dinner out on historical paths:
K.u.K. Restaurant: Piaristenkeller, Piaristengasse 45, 1080, Vienna Dishes from the time of the monarchy.
Ilona Stüberl: Bräunerstr. 1, 1010 Vienna, A tiny piece of Hungary in the heart of Vienna.
Restaurant Kardos: Dominikanerbastei 8, 1010 Wien Austro-Hungarian cuisine from the times of the monarchy.
Zum Franz: Dornbacher Straße 103, 1170 Vienna, Austro-Bohemian specialty restaurant: Bohemia, Moravia and Slovakia permeate the menu.
Viennese cuisine
Korso, Mahlerstraße 2, 1010 Vienna – One of Europe's best restaurants with one of the world's best chefs.
Plachutta, Wollzeile Wollzeile 38, 1010 Vienna – Tafelspitz is their specialty. Fine Viennese cuisine.
Meierei im Stadtpark, Restaurant Steirereck, Am Heumarkt 2a, 1030 Vienna – www.steirereck.at, 120 kinds of cheese from all over the world with classic Viennese dishes.
Grünauer, Hermanngasse 32, 1070 Vienna – Traditional Viennese cuisine and new twists on Pannonian cuisine.
Imprint
Traveling Austria
H. Irresberger
E-Mail: traveling-austria@gmx.at
Content: © Ö-Werbung