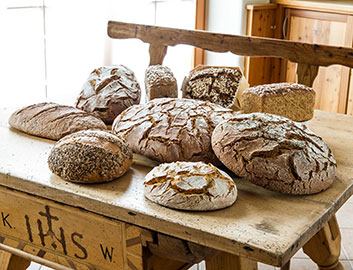 With 13 percent of cultivated land and 10+ percent of its farmers organic, Austria is an international organic champion. This benefits everybody: the consumers because organic foods are healthier and taste better; the farmers because they do a good business and improve earnings; not to mention nature, because old varieties of seeds or forgotten breeds of animals are restored.

Surrounding the magnificent Baroque convent at Schlierbach, towering above the Upper Austrian Krems Valley, an integrated network of the most diverse organic activists has emerged. Upon approaching the town of Schlierbach it feels as if a kind of Garden of Eden has been reached: cows graze peacefully on luscious green pastures, happy chickens peck the ground between blossoming fruit trees and if you wander up the hill you will see free roaming turkeys. And, of course, there are plump wool sheep and highland cattle that seem to stem from a much earlier time.
What may seem as if it had always existed is the product of a long process of a change in thinking. Organic food has been the purview of a few fundamentalists for a very long time, but it is now embraced by the "bobos" and the "lohas" of the information age in the upscale urban neighborhoods of cities from New York to Vienna. "Bio" (the German word for organic) is now much more than a new fad: it is a permanent fixture of the future. It is not surprising that the large supermarket chains are turning an ever growing profit with their "bio" selections. Austria ranks at the top in Europe with "bio" products.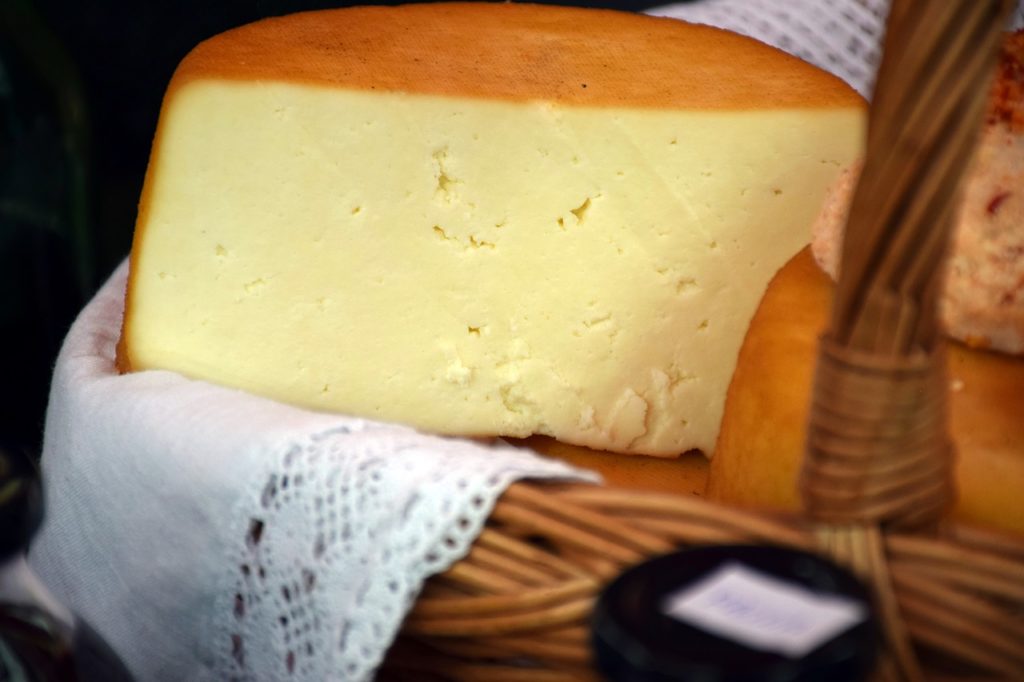 Back to dreamlike Schlierbach: "quality is supreme" is the guiding principle of the convent cheese production. The cheese dairy, operated by the monks, has been producing quality organic specialties since 1999. The organic convent cheese, a semi-hard cheese with naturally occurring fat content, the Bio-Paulus, a mild but savory soft cheese, as well as the creamy Bio-Baccus with red rind (a crosta rossa) have long since become favorites among cheese gourmets. While persuading yourself of the quality of the exquisite "stinking" cheeses it is possible to visit the Baroque convent and the modern cheese diary at the same time, concluding with a tasting at the "epicurean center" in a modern glass structure that seems to float over the valley.
Traveling west from Schlierbach, sign after sign invites you to take a break or even sojourn for awhile with "holiday at the bio-farm." In Vöcklamarkt there is a "Bio Noah Farm" that has been established to protect unusual races of domestic animals and plant cultures. The "Bio Noah" swine live in large free compounds and cattle breeds such as the rare Pustertal Sprinzes are among the kinds of animals that are bred and sustained at Noah's bio-arch.
Returning east another pioneer enterprise awaits at the edge of the fertile Eferding basin: the bio-farm of Ilse and Günter Achleitner. The alphabet of gourmet delights reaches from A as in Apple to Z as in Ziegen (goat) cheese and the bio restaurant serves delicious meals daily.
A few dozen kilometers farther north there is probably the best organic bread baked in Austria: the "Maurach Strutzen" of rye and natural sour dough. This quality is certainly related to the clear water filtered through primary rock soil but also to the altitude of the Mühlviertel area. Grains thrive here with large and strong roots that impart vitality and the characteristic aroma. There is a smaller yield but it is compensated by higher quality. Recipes handed down for generations guarantee a proper disaggregating of the flour: here the dough is given time to develop.
Those who want to savor their meals with good wines have found the right place by coming to Austria. At the world fair for organic produce in 2007, the BioFach in Nürnberg, 16 Austrian organic wines received the "gold" award and 2 even received the highest award of all, the "grand gold." Most important aspects of organic wine growing are doing without fertilizer and pesticides, insecticides and herbicides. The allowed upper levels of sulphur content are one-third below the legally determined limits.
Perhaps the most famous and expensive wine in the world from the Romanée Conti estate in Burgundy is grown and pressed according to biodynamic principles. Completely affordable wines, however, are available at the bio-dynamic producer Meinklang: they not only make a statement about the soil and fauna of the Neusiedl Lake National Park they are the manifestation of a philosophy – every sip is a reminder that "bios" in ancient Greek means life.
LINKS:
Organic and Ecological Seals in Austria
Many tourist enterprises in Austria have dedicated themselves to sustainable economics. Many of them now take advantage of the possibility to certify this responsible approach to business. Here comes a review of the most important organic and ecological seals of approval.
The Austria environmental seal of approval earth, water, nature and air. These four elements of the ecology are represented in the logo of the Austrian environmental seal of approval. Those who have been granted this seal of approval have committed themselves to a responsible approach to dealing with these essential resources. The environmental seal of approval is granted and monitored by the Federal Ministry of Agriculture, Forestry, Environment and Water Management. The criteria for approval encompass all relevant ecological aspects of a tourist enterprise such as waste management, energy efficiency and conservation, healthy cuisine with regional and seasonal products as well as ecologically friendly travel to Austrian destinations.
Among the 200 approved enterprises there is a wide variety of offerings. The first eco-hotel to be granted the seal was the Carinthia Biolandhaus Arche: Beginning with its adobe construction style and extending to the use of organic cotton in bedding this enterprise met the highest standards of environmental friendliness. Many camping sites have committed themselves to environmental friendliness as well, such as the Berau Camping on Lake Wolfgang. They require waste separation, use environmentally friendly paper, ecological cleaning agents, and organic products in the kitchen. The ecologically minded tourist does not have to search out these certified businesses on their own: They can simply book with the travel agencies Railtours Austria, Radreisen Austria or Mondial, all of which have ecologically certified travel offers.
The European environmental seal of approval is recognized internationally The entire EU is rethinking its approach to ecological sustainability, which is reflected in the tourism industry by Eco-Flower, the designation of the European environmental seal of approval. The essential elements of the seal regard limiting energy and water consumption, reducing waste, efforts to use renewable resources, and encouraging awareness of environmental issues. In Austria there are around 20 hospitality enterprises that have earned the "European flower" including several camping sites.
Biohotels: The way to environmental protection is through the stomach Hospitality enterprises that carry the designation "Bio" promise sustainable products. Whether luxury hotel, farm or wellness institution, they all guarantee that 100 percent of the food that lands on the table is organic. In general the cuisine includes ingredients that mature in the region and are harvested there. Gene manipulated or chemically treated food is simply not allowed. A primary requirement for the designation "Bio Hotel" is a certification according to the EU ecological declaration and regular inspections. Many Bio Hotels do not stop at sustainable economics in their food offerings, even though the Bio Hotel seal of approval does not require it. At the Naturhotel Grafenast for instance, the renewable resource wood is an important aspect of their general concept. The entire hotel has been built of wood from the region and room heat comes from a biomass furnace which also provides heat to the region. The pool is heated by solar collectors. In the Carinthian Gralhof, where many organic food products are produced in the adjoining farm, climate protection is an important consideration and produced in the adjoining farm, climate protection is an important consideration and produced in the adjoining farm, climate protection is an important consideration and produced in the adjoining farm, climate protection is an important consideration and produced in the adjoining farm, climate protection is an important consideration and the necessary energy comes from their own sustainable sources. Visitors to Austrian organic farms will find special attention to production in harmony with nature. Fruits, vegetables and herbs are produced without chemical additives. The animals are kept according to principles appropriate to the species and can graze naturally on pastures while their cohorts have to spend the largest part of their lives in stables.
If it says bio, it means bio Whether as souvenir or for their own use – more and more tourists want sustainable quality. With 15 percent of agricultural land used for organic production, Austria is Europe's largest organic food producer relative to population. Not all of the 70 seals of approval for food are related to organic production, however. Still, it is easy to recognize organic production by the label "bio" or "eco," since these labels are proprietary: If it says bio, it really means bio.
It is also possible to recognize organic food by the control number that must be on every type of packaging. The first two letter AT stand for Austria. If the designation ends with the letters "BIO" this certifies organic quality. As of 2010 all food products must be identified by an EU Bio logo, a blue-green rosette with a kernel of grain.
Specifying eco textiles is somewhat more difficult because the designation of textiles still has not been uniformly defined within the EU. In general one should look for the proprietary designation "from regulated organic production" as well the European ecological seal of approval. The most common and rigorously controlled label at present is the "Öko-Tex-100" emblem. For additional security it is also possible to check the Austrian environmental consulting service or the market check of Green Peace.
Sustainable CO2 compensation projects Part of sustainable travel is an environmentally friendly mode of transportation. Many vacationers who cover long distances by airplane are aware of the high CO2 emissions caused by airplanes and are willing to compensate for them. Although flying will always be an ecologically unfriendly form of travel and compensation for emission is not a charter to fly at will, there are environmental and climate protection agencies that provide reasonable recommendations for rational compensation.
Truly sustainable projects are principally recognizable by the "Gold Standard" or "CDM" (Clean Development Mechanism). The projects in question demonstrably reduce emissions and only renewable energy sources are employed.
Furthermore, many of these projects can be found in those developing countries and emerging markets that are most directly affected by climate change. In Austria institutions such as Atmosfair, Myclimate, Climatepartner and Climate Austria offer organizations such as CDM or projects such as Gold Standard their support.
LINKS:
With the power of nature – products from the land
The time has come for natural products that take us back to the basics and fill old wisdom with new life. Especially in a country such as Austria, which is rich in resources and new ideas, there is no lack of possibilities to discover the best of what nature has to offer with all of your senses.
Goat butter ointment
Table of Contents
The ultimate fragrance experience: When in 1915 Florian Stix was still experimenting with his formula for goat butter ointment he could hardly have imagined that he was laying the cornerstone for a universally operating enterprise. Today, his uncle, Wolfgang Stix, using the ecologically correct trademark "Styx Nature-cosmetics," is producing highest quality cosmetics for all needs while avoiding all animal testing. By employing the huge resources of traditional herb expertise, products such as "Rosengarten" ("rose garden") for the bathroom, special moor products, and a comprehensive aroma therapy have emerged. In addition there are fresh herb extracts as well as cold pressed plant oils from organic farm sources. It is worth looking into!
Edelweiß in cosmetics
Edelweiß, otherwise known as the star shining brightly on Alpine pastures. At altitudes between 1,800 and 3,000 metres (6,000 to 10,000 ft.) in the limestone Alps there grows a legendary plant whose retrieval once could become a life- endangering challenge and therefore caused many a worshiper to rethink his efforts. We are talking about the Edelweiß, often referred to by the locals as the Alpine Star, which in addition to its use as "herb of love" also possesses unusual cosmetic properties. It is these properties that are exploited by the cosmetics line Almstern ("alpine star") developed specially for the Arlberg hospice in St. Christoph and the Goldener Berg hotel in Oberlech. It combines finest Edelweiß extract with pulverized precious granite stone. Ice-cold naturally pure well water, cosmetic mountain honey, finest oils from the Bergdotter flower and peeling kernels from the heart of walnuts complete this special and very relaxing type of treatment. Finally we have a way to express affection for the Edelweiß that can be purchased conveniently on-line and requires no mountain climbing skill of any kind.
Cheesy?
The idea of finding a practical use for whey came to Ingo Metzler in the Bregenz Woods in the year 1991. The dairy began looking for expansion potential in their own production and found it in, of all places, the product consisting of almost 90 % water that was left over after the production of their "Wälderkäsle" ("cheese of the woods"). It was an immediate success: The number of people reacting with allergies to synthetic cosmetics is constantly rising. Whey, on the contrary is a tried and true cosmetic with an excellent influence on the skin. The selections of the Metzlers range from whey bath products to shower oils to facial care. Through the addition of healing plant essences from their own gardens these products are not only extremely effective, they have a wonderful aroma. These products are at least as endorsable as the Metzler cheese creations!
Cleopatra's secret
It is said that Egyptian Queen Cleopatra bathed in donkey's milk for the sake of her beauty. This also seems to work with mare's milk that is processed into fine cosmetic products by the Steuer family in Hittisau in Vorarlberg. Without animal testing and with exclusively organic ingredients the product line "Equinea" improves the functioning of the skin, protects it from harmful environmental influences, supports the regeneration process of skin cells and protects the immune system of the skin. All of these characteristics make mare's milk an insider tip for people with allergies and especially those with neurodermititis. As supportive treatment the Steuers recommend drinking cures. All-in-all mare's milk is a life's elixir, rich in vitamins, trace elements, minerals, polyunsaturated fatty acids, proteins and enzymes – and easily digestible even for those suffering from stomach disorders. Prospective clients need not learn how to milk a horse: Steuer's mare's milk is available in frozen form, and, especially convenient, as freeze-dried powder.
Honey bee
Busy messengers of beauty. To each province its own honey bee? At least Carinthia has one, the so-called Apis mellifera carnica, that mutated from the western honey bee and has felt quite comfortable in southern Austria for centuries. The mild mannered and busy Carnica draws on the abundance of the provincial landscape to create not only wonderfully aromatic honey, but valuable complementary products such as Gelée Royale, propolis, bee's wax and Rosenthal mountain and flower pollen, sold by the beekeepers in the Rosenthal valley of delights. Propolis, the wax that is used to insulate the beehives, and Gelée Royale, the feeding liquid used by the honey bees to nurture the queens are popular and supportive agents employed not only in alternative medicine and natural healing but in cosmetic care, as well. We thank our bees!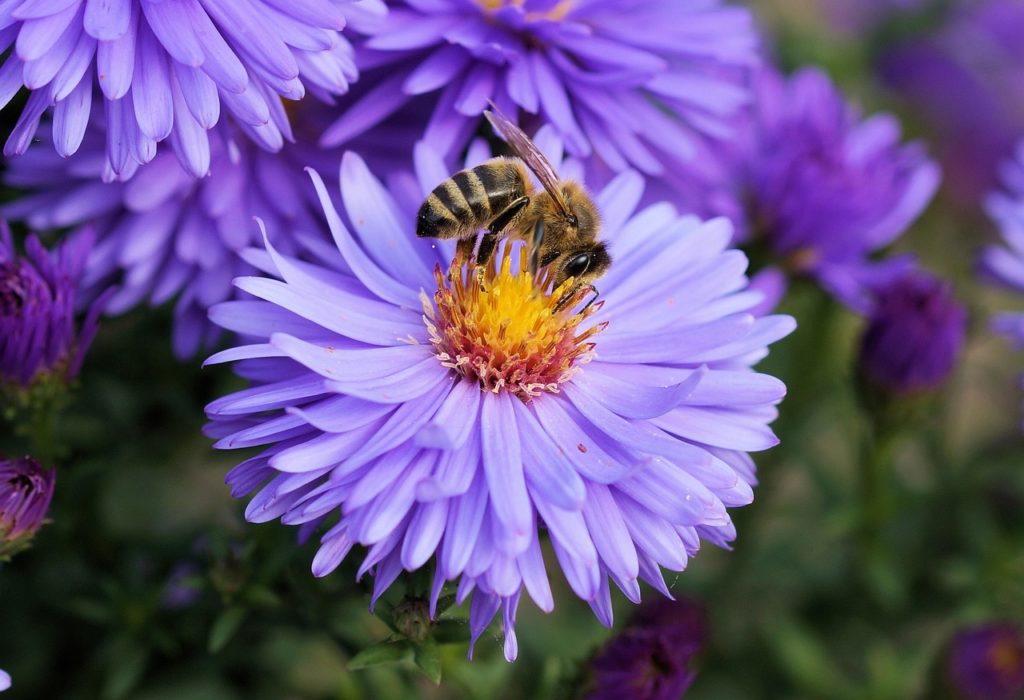 Oil mining
Since when has oil been mined and not produced from ripe fruits or seeds? At the latest since a certain Martin Albrecht discovered a very special oil shale in the Bäche Valley in the Karwandel area that is still today mined at 1,500 metres (5000 ft.) altitude above sea level and processed by Albert's successors into Tirolean stone oil. This oil profits in the truest sense of the word from the original potency of the sea: It contains traces of all organic substances that for millions of years were deposited in the pre-historic Mediterranean sea and which through the sinking of the water and the emergence of the Alps became accessible. Through the ingredients from pre-historic sea animals and plants and its high quantity of naturally bound sulphur, this oil, which is applied externally, has a gentle and effective influence on the skin, the hair and physical mobility. It is original energy that is just as effective today as it ever has been.
Arnica
Murmuring wonder of nature In the nature park Kaunergrat the local families have regularly collected the richest treasures of nature. This is where arnica, St. John's wort, camomile, marigolds and mountain pines grow, which are collected by hand and carefully made into care and health products. A specialty in the large selection that is available under the name "good things come from Tirol" is the marmot oil, also known in mountain regions as "the oil of life." The name may sound hackneyed but the name of this product truly has an authentic source. The oil which comes from the fat of the marmot is rich in glycerides, linoleic acid, and other styroids: It has been used for centuries for complaints of the muscles and joints because of its blood circulation stimulating and infection resisting properties. For what is good for the lumberjack will be good for the pencil pusher… .
A hayloft for the home
Those city folks who would like to wake in the morning feeling as if they have just spent the night in a mountain lodge they will want to buy a Rax Alpine bed of Alpine herbs and turn their bedroom into a romantic hayloft. The hand manufactured mattress set is stuffed with the aroma of spicy mountain herbs, has a hemp-sheep's wool fleece and a core of top quality hay. For one to two years the mattress makes for sound sleep and needs only occasionally to be rejuvenated in the sun. The mattress cover is made of controlled organic cotton. And just a word about dust mites: In contrast to humans they are adverse to the smell of hay!
LINKS:
Styx Naturcosmetic GmbH Am Kräutergarten 6 3200 Obergrafendorf Tel.: +43 2747 3250 www.styx.at
almstern 6580 St. Christoph Tel.: +43 5446 26110 www.almstern.at
Metzler Käse-Molke (dairy) GmbH Bruggan 1025 6863 Egg Tel.: +43 5512 3044 www.molkeprodukte.com
Steurer Stutenmilch und Stutenmilchkosmetik (mare's milk and mare's milk products) Bolgenach 2 6952 Hittisau Österreich Tel.: +43 5513 8149 www.stutenmilchkosmetik.at
RosentalerCarnica Honig (honey) Ressnig 49 9170 Ferlach Tel.: +43 4227 5119 www.carnica-rosental.at
Tiroler Steinöl Vitalberg-Betriebs GmbH Pertisau 56 6213 Pertisau am Achensee Tel.: +43 5243 5877 www.vitalberg.at
Gutes aus Tirol (good things come from the Tyrol) Naturpark Kaunergrat Wald 100 6471 Arzl im Pitztal Tel.: +43 5412 64128 www.gutesaustirol.at
RAX Alpenkräuterbett (Alpine herb bed) DI Andreas Gmeiner Kleinau 28/Scholz Hütte 2651 Reichenau an der Rax Tel.: 0699 11954704 www.lebensartnatur.at
Vienna Naschmarkt – the best traditional market in town
It is said that the realm of the Balkan states begins in Vienna. If you walk through the Vienna Naschmarkt and, on a Saturday, through the adjoining flea market you will clearly understand why.
There were two major trade routes that met in Vienna: the Amber Road connecting north and south, and the Danube route going east and west. Hundreds of years ago goods were brought by land and by water to Vienna from the Occident and Orient including foodstuffs that have always been of exotic popularity. In addition local farmers pleased the palates of the former royal capital population with home-grown products. All of these traders gathered at a central market that was dubbed the "munch" market ("Naschmarkt" in German) – an appropriate moniker considering the appealing selection of fruits, vegetables, and sweets.
Wiener Naschmarkt. Abendstimmung in den Restaurant-Gassen des Wiener Naschmarktes. © Österreich Werbung, Fotograf: Volker Preusser
In the 1920's merchants were granted small trading houses for their products so that they did not have to daily mount and dismount their stands. This also meant that vendors and their products were protected from the elements – an important advancement for a market that was open year around. From then on products were aligned in three long tiers in front of the small shops and hawked by loud-voiced peddlers.
Ever since the Viennese have bartered for the fresh and rare victuals available at the Naschmarkt. In making your way from the Sezession building on Karlsplatz to the Kettenbrückengasse through the market with the boisterous offers of the vendors you can sense the flair of the Balkan states. With outstretched hands you are invited to great bargains on sheep cheese, olives, Wasabi nuts or freshly picked dates. The refrains can be heard from all corners: "my fair lady!" "young man!" "Try some!" and "please, what is your pleasure?"
There are Nordic fish stands, local fruit and vegetable dealers who also sell now rare varieties such as leather apples and wild parsnips and there is "vegetable Edith" with new mushrooms from the Burgenland region. Beguiling odours spread forth from the tiny Oriental and Asian shops. The "cheese hut" beckons with exquisite varieties of cheese – from Norwegian caramel cheese to Corsican Brin d'amour. Baked goods, stands with meat and seafood, vinegar specialties, and "Cucumber Leo:" altogether they create a bazaar atmosphere that could hardly be more lively.
If you're not careful your shopping bag will be filled with more than you anticipated: "Casanova's Antipasti" has what seems an inexhaustible supply of varieties of appetisers. Health food fans will be entranced by the plentiful selection of health foods at "Bio-Welt" and the "Ayurveda Coast." Persia welcomes with delicacies to delight all of the senses: dried starfruit, miniature kiwis, barberries, nuts, figs, Arabian chocolate. Many vendors gladly offer tastings.
As does Ahmad Maan, for instance, son of a herbal healer from Baghdad who continues his family tradition at the Naschmarkt with spices, teas, and oils in his "house of herbs." Whether cardamom, blue fenugreek, blue ginger, common mistletoe, or "Moroccan gold," known as Argan oil, they all have an healing effect on the body. Whatever your ailment the always jovial Iraqi will mix an assortment especially for you.
The famous Viennese enterprise Gegenbauer, founded in 1929, graces the Naschmarkt with not one but two appealing stands on the Naschmarkt lane. On the one side it exudes an odour of fine vinegar: as result of intensive research the grandson of the founder developed innovative sorts of vinegar that can be sampled before purchase. These are varieties such as rowan berry vinegar, quince vinegar, and apricot vinegar, aged in glass globes.
Gegenbauer's roasting house is located opposite. One type of coffee is roasted using three different methods producing the "Morning," "Naschmarkt," and "Evening" coffees. But not only coffee is roasted: many varieties of grain can be roasted at moderate temperatures and develop an excellent flavour. Gegenbauer has contracted with local organic farmers to grow old varieties of grains such as Emmer, einkorn containing lutein, mountain wheat, hulless oats and barley. These innovative and healthy products have found their way into many a kitchen.
A walk through the Naschmarkt makes it clear: the market of long held traditions not only has newest trends to offer it provides a place for typical Viennese word wrestling to meet Oriental flair. A shopping spree at the Naschmarkt becomes an international culinary and cultural adventure. And now the legendary market is celebrating its 80th birthday
Every second row at the Naschmarkt offers gastronomy for all tastes: the range extends from the gourmet fish restaurant to sushi and Asiatic cuisine, classical Viennese fare, Italian grilled specialties, pasta, crêpes, or Greek specialties, to truly international cuisine that is inspired by all of the delicacies available at the Naschmarkt. Since the quality is first class everywhere the small establishments are almost always overcrowded. In the summer the mini-restaurants spread out wherever they can until very late in the evening, since restaurants, in contrast to the stands, are open for business until almost midnight.
LINKS:
Guided tours of the Naschmarkt
www.viennawalks.com
The Vienna Naschmarkt
6th district, Wienzeile between Sezession and Kettenbrückengasse
Mo – Fr 6:00am – 7:30pm,
Sa 6:00am – 5:00pm
Eating places:
Mo – Sa 6:00am – 11:00pm c.