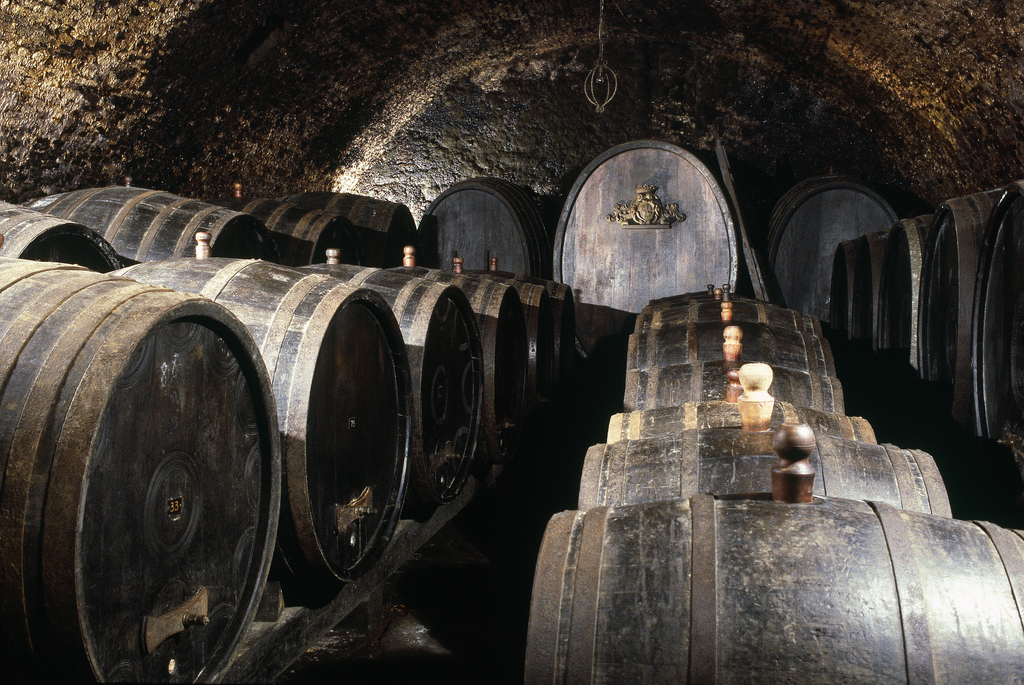 Wirtshaus am Sattlerhof
Everyone knows that wine and food are a marriage made in heaven. At the Sattlerhof, they discovered this a long time ago. For more than 20 years, this happy symbiosis has been celebrated here—and the Sattlerhof is a wonderful place to stay too.
The Weingut Sattlerhof is a pioneering operation in southern Styria. Year after year, Willi Sattler's wines are amongst the best in the country. But wine alone is not enough. Which is why more than twenty years ago his brother Hannes opened the Restaurant Sattlerhof, which in 1990 became the first restaurant in the region to be awarded a Gault Millau toque.
The idea has remained the same: to produce creative, yet down-to-earth cuisine using high-quality natural, organic ingredients to complement the wines of the Sattlerhof vineyards. And the family achieve this goal with remarkable consistency, and ever since they expanded their ensemble on the Sernauberg to include a beautifully furnished country guesthouse, it's fair to say they have created a complete work of art dedicated to pleasure. As far as the restaurant itself is concerned, food ranges from traditional hearty fare with soup and Sunday roast at weekends to exquisite multi-course menus in the gourmet restaurant.
Contact:
Weingut Sattlerhof
Sernau 2
8462 Gamlitz, Styria
Rauch-Hof
The Schilcherland with its vineyards and authentic local wine taverns combines all sorts of delights, and not just of a culinary nature: The Rauch-Hof, offers an idyllic place to stay, outstanding food and unusual cultural experiences.
Amidst beautiful verdant countryside, not far from the vineyards that used to belong to Archduke Johann, guests can look forward to cozy dining rooms, a secluded garden and gourmet cuisine that has been recommended by Gault Millau and Slow Food Styria. Head chef Karin Rauch uses only regional products such as the asparagus and pumpkins that grow behind the house and fresh fish taken from her own ponds. Host and certified sommelier Willi Rauch selects the matching wines.
As a 'Kulturwirtshaus' the inn hosts a varied programme featuring well-known artists and performers from all over Austria, such as the Cooking and Reading event with renowned authors. Guests wishing to stay a little longer will sleep peacefully in the "vintner-style" rooms in two charming renovated farmhouses with their wooden furniture and spacious bathrooms, while the new "vintner-style" room in the main building also boasts a huge roof terrace and an appealing mix of traditional and more modern furniture.
Contact:
Rauch-Hof
Wald-Süd 21
8510 Marhof, Styria
Weingut Holzapfel
A small, classy restaurant with guest rooms, award-winning wines, homemade fruit brandies and all manner of sweets involving apricots. At the more than 700-year old Prandtauerhof in Jochingan der Donau, the Holzapfel celebrates the rich tradition of hospitality in the Wachau region, serving up the best of what the area has to offer in terms of food and wine.
When Karl Holzapfel senior bought the Prandtauerhof back in 1968, this four-winged Baroque jewel with its two-story arcaded courtyard and its own chapel was on the verge of becoming a ruin. A great deal of time and money, and even more enthusiasm was needed back then to carefully renovate and revitalize the former grape-sorting centre of the St. Pöltener Chorherrenstift monastery. But this investment has paid off: the Prandtauerhof is now one of Lower Austria's premiere venues for fine dining and also counts as one of the best vineyards and schnapps distilleries in the entire country.
The family-owned restaurant with its romantic courtyard is a truly splendid location to enjoy a glass of fine wine and the local specialties which are served here. The cuisine is creative and exciting, but never loses sight of its humble origins, relying on selected products and ingredients from the surrounding area and the nearby Waldviertel, such as smoked ham from the family's smokehouse, fresh brook trout and roast beef marinated in veltliner wine. For dessert, one might fancy semi-sweet chocolate with zweigelt ice cream, Topfennockerl (sweet quark dumplings) with apricot jam, or the delicious apricot brandy chocolate, which you can also take home, along with many of the other apricot specialties produced here. And speaking about "home", after enjoying your meal at the Prandtauerhof, why not extend your stay and take one of the four rooms, decorated with materials from the UK interior designer label "Designers Guild".
Contact:
Weingut Holzapfel
Prandtauer Platz 36
3610 Joching, Lower Austria
www.holzapfel.at

Heuriger Schlossahaus
The menu in Mönchhof is simple, yet full of surprises, ensuring a unique culinary experience in a fantastic setting.
Whether the Schlossahaus qualifies as a Heuriger or as a wine-tavern is a matter of some debate. At any rate, it is certainly a great asset to the region. The rooms, the beautiful garden at this former metal fabrication workshop and the opening hours are more reminiscent of a Heuriger, but the selection of wine and food leans towards that of a wine-tavern. All of the wines can be purchased by the glass and are excellent; after all, three of five reds on the menu are award winners.
The menu is simple, but full of surprises. The homemade Liptauer cream cheese and paprika spread, for example, can be ordered as a "hedgehog", punctuated with pretzel sticks. The real specialty is the famous organic dinkel wheat spread which is "always freshly prepared, according to a closely guarded recipe." Other treats include head cheese with special marinade, red onions, pumpkin seed oil, cherry paprika, blood sausage with mustard and horseradish, and the Schlossa snack featuring cured sausage from Hungarian gray cattle from the Seewinkel national park. These sausages can also be ordered warm with horseradish and Dijon mustard. The boiled ham made from the same kind of beef is something that must be tried. The regional Pannonian Schmankerlteller is in class of its own, including ham made from wild boar and venison, sausages with game meat, organic lamb liver pâté and cheeses, terrine à la Stekovics and much more.
Contact:
Heuriger Schlossahaus
Stiftsgasse 18
7123 Mönchhof, Burgenland
http://www.heuriger-schlossahaus.at
Weingut Jamek
For decades, Jamek has been a front-runner in the Wachau, both in terms of its wonderful atmosphere and the quality it offers.
Josef Jamek was the pioneering vintner in the Wachau region and his wines were among the first which made their way into the finest restaurants of the Arlberg back in the 1960s. The best place to enjoy these wines, however, has always been at the restaurant in Joching, which is now run by the next generation, Jutta and Hans Altmann. An easy-going country inn, with a peaceful atmosphere, where comfort is valued over noble airs. In the cozy rooms, on the terrace or sitting in the charming garden, guests can feel at ease and gladly take their time.
And spending time here is a pleasure indeed, with food which perfectly harmonizes tradition and regional pride: fish and game dishes play a central role, along with classics such as riesling lights, quenelles de brochet, Topfenhaluschka (noodles with bacon and quark) and apricot dumplings. It's no feat to find the right wine, since the rieslings and veltliners produced by the Jamek estate are amongst the best in the Wachau. Those who wish to stay a bit longer and enjoy the ambiance are well advised to inquire early about the availability of the charming rooms at the Jamek vineyard.
Contact:
Weingut Jamek
Joching 45
3610 Weißenkirchen, Lower Austria
Weingut Igler / Dependance Schaflerhof
The Igler family of vintners has carefully adapted an old farm to provide a new home for their fine wines. The architecture, wines and atmosphere all merge seamlessly together to reflect the quiet character of the central Burgenland region near Lake Neusiedl.
A weekend excursion to visit the Pannonian landscape in the Burgenland and stock up on fine wines is great fun. If you're on the road near Deutschkreutz on a Friday or Saturday, make sure to stop by the Schaflerhof of the Igler estate, because these are the two days of the week that the Igler family opens its wine stores at their 300-year-old farm.
The Schaflerhof exudes a sense of history and typifies the great atmosphere of this wonderful landscape around the edge of Lake Neusiedl. As the name implies, the farm was used for sheep farming for hundreds of years, as part of the estate owned by the Esterházy princes. Several years ago, the Iglers adapted the 65-metre long main building and had a spectacular roof put on the ancient walls. The complex construction of the roof frame reminds one of a ship turned upside down, which protects some 600 barrels of barrique wines which are stored inside under just the right conditions.
The most well-know Igler wine from this region, which is renowned for its 'blaufränkisch' reds, is the Cuvée Vulcano. Wine connoisseurs consider the wines grown at the "Biiri" terroir (one of the oldest wine-growing spots in Deutschkreutz) to be among the best. And if you can't make it on the weekend: the Igler's red wines can also be tasted during the week at the Vinothek in the Lange Gasse in Deutschkreutz.
Weingut Hans Igler GmbH
 Lange Gasse 49
 A-7301 Deutschkreutz
Loisium Wine & Spa Hotel
Ultra-modern architecture and an excellent range of spa facilities in one of Austria's most traditional wine regions: it's a concept that shows just how successful the four-star Superior Hotel Loisium in Langenlois really is.
A gentle scrub with grape seeds to start with, followed by a relaxing barrique bath in the wine barrel tub and perhaps even a revitalizing soap and brush massage to finish with? In the Loisium Hotel's Aveda Wine Spa, they've specialized in feel-good treatments based on grapes, wine and vines.
So it won't come as a surprise that "Wienerin" magazine voted the innovative spa one of the "50 most beautiful spa oases in Europe". But it's not just in the spa area of this extravagant hotel that guests can relax and make themselves comfortable. The hotel's 82 rooms with their open baths and classic yet modern interiors guarantee only the best in ultimate, multiple-award-winning enjoyment.
In 2006, for instance, the Loisium was crowned one of the winners of the European Hotel Design Awards, before going on to receive a Travelers' Choice Award in 2012, thus being counted among the 25 trendiest hotels in Europe. But that shouldn't come as much of a surprise either – given that none other than Steven Holl, the renowned American architect, was responsible for designing the (interior) architectural features and implementing the vinophile lifestyle establishment!
And travelers who're only going to make a fleeting visit to the Loisium, or who may well want to combine their visit with a round of golf at the nearby 36-hole course will be interested to know that the Aveda Wine Spa is also open to day guests when arranged in advance.
Contact information
Loisium Wine & Spa Resort
Loisium Allee 2
3550 Langenlois, Lower Austria
http://www.loisiumlangenlois.at
Buschenschank Schandl
The Schandl wine-tavern combines traditional dishes with creative cuisine. An epitome of Austrian dining pleasure.
For a long time many have actually said that Schandl is not really a traditional wine-tavern anymore, because its menu is too extensive. Be that as it may, it's still always a great pleasure to eat there. The lovingly renovated house has a traditional bar area, where guests can select from the dishes made by Barbara Schandl. Marinated sour-milk cheese with pumpkin seed oil and green onions, blood pudding with mustard, horseradish and bread, "fine pâtés" and various kinds of sausages are always available and always delicious.
And these are all really classic Heuriger-style dishes, aren't they? Along with the buffet dishes, one can also enjoy wonderful fish soup with root vegetables and paprika, an excellent zander fillet with garlic and parsley potatoes, pork schnitzel with potato salad or delicious hearty-spicy meat with sauerkraut, served with a bread dumpling interestingly enough.
The staff are very friendly and competent when it comes to selecting the right wine as well. The rosé, furmint, pinot blanc and of course the regional specialty blaufränkisch are all excellent. As a finale, guests can chose from Somlauer Nockerl, a kind of Hungarian trifle, or poppy-seed noodles with plum jam, or even settle for a room at Hotel Schandl if needs be.
Contact:
Buschenank Schandl
Hauptstraße 20, A
7071 Rust
Gut Oggau
Extraordinary atmosphere, high-end bio-dynamic wines and a small, but delicious Heuriger-style kitchen: Gut Oggau has conquered the hearts and palates of Austrian connoisseurs with this rich combination, and has even made it into a museum in San Francisco!
The "family of wines" from Gut Oggau has nine members. Their names are Theodora, Winifred, Timotheus, Atanasius, Emmeran, Joschuari, Mechthild, Bertoldi and Wiltrude. And what makes them special is that not only are they made according to strict organic criteria, they also look so good that they made it into the exhibition "Design & Wine" at the Museum of Modern Art in San Francisco! Don't worry though, you won't have to fly overseas to taste them. You need only visit Gut Oggau in the Burgenland.
At this historic vineyard, one meets Stephanie Tscheppe-Eselböck (from the well-known family of cooks) and Eduard Tscheppe (from the famous vineyard in Styria), who run an upscale Heuriger with wine sales. Charming: the lovingly decorated courtyard with spacious tables, comfortable benches, floral and crocheted cushions, a nice cellar and an old garage where guests can now dine from a wooden boat that has been re-purposed into a table. Delicious: cold-smoked, cured hams, spreads, baked goods, blood sausages and pâtés from the region and the almost legendary lamb bratwurst or the Oggauer Feuerfleck, a crispy flat bread with bacon, cheese and onions. Ideal for wee guests: Max and Moritz, the two goats in the mini-petting zoo, and plenty of room to play and have fun. Opening hours are listed on the Internet.
Contact:

Gut Oggau

Hauptstraße 31

7063 Oggau, Burgenland
Loisium Wine & Spa Resort Southern Styria
The Loisium Wine & Spa Resort explicitly proves that traditional wine culture and the environment of a wellness design hotel can be a perfect combination.
In 2003 when the Loisium wine adventure was opened in Austria's biggest wine-growing city, Langenlois, it quickly became a hot topic amongst wine lovers throughout the world and there was a stampede of visitors. It was only fitting that shortly thereafter the first Loisium Wine & Spa Resort with 82 rooms opened its doors. There has been a counterpart in the South Styrian wine region since 2012. The Loisium in Ehrenhausen came into being on the assumption that the special topographical aspects of the surroundings would be incorporated into the architecture.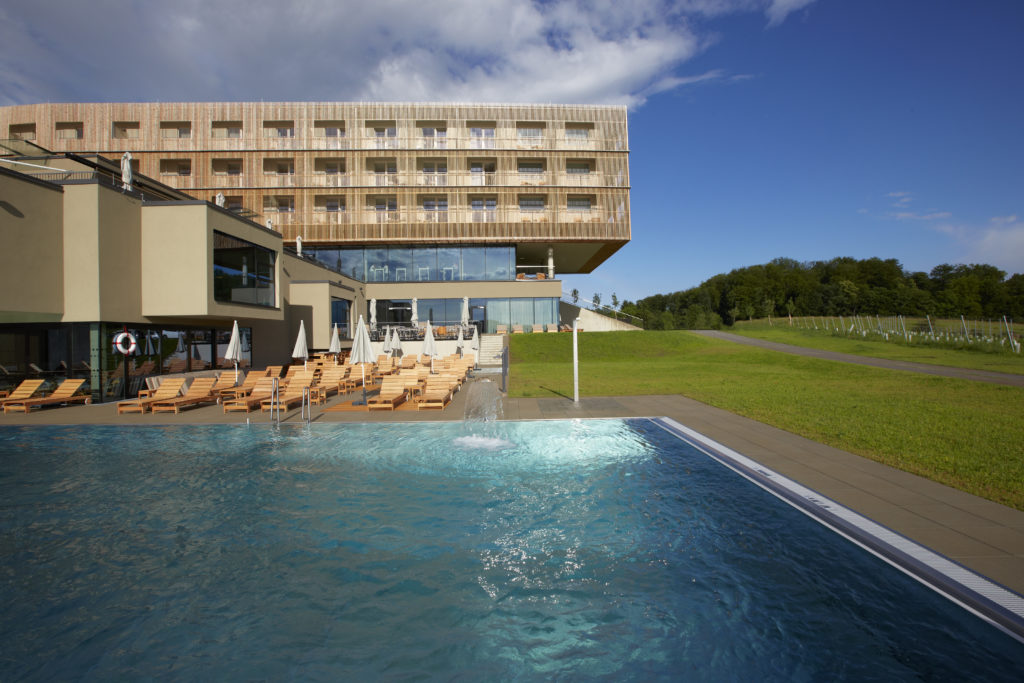 A design hotel thus evolved, of which the main building – a structure mounted on stilts and glass – blends effortlessly into the hilly landscape with its picturesque vineyards. Equipped with a large outdoor pool and an indoor spa center, well-being is coupled with indulgence in exquisite wines. The interior design can be described as having a reinterpreted Styrian style. From the specially fired green tiles in the lobby and spa to the reception desk lined with wrought brass through to the spruce dados in the rooms, elements of old Styrian inns are drawn upon throughout the entire building. The new hotel is ideally located for experiencing the characteristic landscape and culture of Southern Styria on different tours, either on foot or by bike.
Contact information

Loisium Wine & Spa Resort Southern Styria

Am Schlossberg 1A

8461 Ehrenhausen, Styria
Heurigenhof Bründlmayer
Heurigenhof Bründlmayer is not your everyday Heuriger. The cuisine at this wonderful historical venue is absolutely top-notch and Bründlmayer wines are counted among the very best in Austria.
The name stands for quality, because the Bründlmayer pays close attention to ensuring that anywhere their name is used, the quality is tops. This applies to the wines made by Willi Bründlmayer as well as for the Heurigenhof, where chef Daniel Petz works his wonders in the kitchen to indulge his guests. He loves working with fresh, regional products. The menu includes a creative range of cuisine, with classic Heurigenhof favorites such as blood pudding ravioli and marinated Alpine salmon or a multi-course menu, with every course accompanied by just the right wine from the Bründlmayer collection. It is also possible to purchase any of the Bründlmayer estate wines at farm-gate prices. Guests who wish to stay a little long can also take their repose in the charming guest apartment.
Contact:

Weingut Bründlmayer

Walterstraße 14

3550 Langenlois
Gut Oberstockstall
The Oberstockstall is an enchanting, magical place, offering a unique symbiosis of pleasure, mystery and hospitality.
It was an archaeological sensation in 1980 when a completely outfitted alchemist's laboratory from around 1580 was found and excavated in the castle chapel at Oberstockstall. It can now be seen at the Alte Rathaus in Kirchberg. There's a little less alchemy involved in the cooking going on in the Oberstockstall kitchen run by chef Eva Salomon, albeit her work is also about much more than just combining the right ingredients. "Eating and drinking in the countryside" is her motto, and she lives up to it by making sure that many of the products used are from local suppliers or even own production.
This includes wines from their own vineyard, along with sheep, ducks, geese and vegetables: all raised and grown according to organic standards. She conjures these together to create dishes that have a revitalizing effect on the body, rather than weighing it down. Let your spirit run free on the cozy terrace at the country inn or in the tastefully decorated dining area.
And you can take some of the delightful treats home as well, in the form of delicious Gut Oberstock pralines in the flavors Caramel-Fleur de Sel and Dirndl & Pinot Cuvée champagne. Attractive accommodation is available nearby at the "Alten Winzerkeller" in Kirchberg am Wagram.
Contact:

Restaurant Gut Oberstockstall

Oberstockstall 1

3470 Kirchberg
Styrian Volcano Land
When Austrian gourmets take a vacation they are attracted to an area in south-eastern Styria with a very special reputation: The Volcano Land.
There haven't been active volcanoes in southern Styria for two million years, but the enchanting, hilly landscape that is frequently compared to Tuscany by visitors to the area emerged about 17 million years ago. Today many farmers still benefit from the fertile land. But even the finest agricultural products such as apples, pork, gourds or grapes do not serve their true purpose if there are not those who know how to refine them. And this is what the Styrians are experts in. Some of the finest food products in Austria come from the Styrian Volcano Land: Finest brandies, and vinegar in Gölles, ham from Vulcano, pickled vegetables and mushrooms from Finks Echte Delikatessen, wine from Neumeister, Winkler-Hermaden or Ploder- Rosenberg, and, of course, chocolate from Zotter. Cocoa, of course, does not grow in Styria but the sweets are produced in their entirety in Bergl close to Riegersburg castle.
Wine grown on volcano rock
Styria has been known for its excellent wines for a very long time. Whether Traminer or Sauvignon Blanc, Weißburgunder, Morillon (Chardonnay), Welschriesling, Zweigelt or Blauburgunder (Pinot Noir), they all flourish and are cultivated by the best wine growers. While visiting the vineyards the wines can be tasted and you can learn about how this special soil affects the wines. If the vineyard does not have a conventional vinotheque it is advisable to arrange a visit in advance so that the vintner's family can take time for its guests. Most of the enterprises here are family run. In a relaxed, casual atmosphere typical food is served with the wines. Often it is cold sliced sausages, salads with gourd seed oil, or ham and sausage specialities served outside the usual meal times – on a sunny afternoon, for instance.
Wine&Pork Ham and bacon are staples of the Volcano Land diet. A few years ago the vintner family Krispel began to breed the swallow-bellied Mangalitz pig, an old European race that was considered to be an endangered species because the high fat content of the animals was no longer considered up to date. They yield an especially tasty and low-cholesterol bacon which the Krispel family salts, seasons and cures in a manner similar to the Tuscany Lardo di Colonnata. It is called "Neusetzer" and has since reached cult status in Austria. It can be sampled at vinotheques and purchased to take home.
Another enterprise uses the name of the region in its brand name. The Vulcano Schinkenmanufaktur (Volcano Ham Manufacturer) has specialised in finest products from swine. Tours through stys and curing rooms followed by tasting are possible by previous appointment.
Sour is funny One of the best brandy and vinegar producers in Austria calls the Volcano Land his home: His name is Alois Gölles. His business can be visited at any time with previous appointment. Where else is it possible to look over the shoulder of a master of his trade at work? Gölles' vinegar varieties are not only well known among Austria's top chefs, they have long since earned an international reputation among professionals and gourmets. The selection of pure sorts of fruit vinegar such among professionals and gourmets. The selection of pure sorts of fruit vinegar such among professionals and gourmets. The selection of pure sorts of fruit vinegar such among professionals and gourmets. The selection of pure sorts of fruit vinegar such among professionals and gourmets. The selection of pure sorts of fruit vinegar such among professionals and gourmets. The selection of pure sorts of fruit vinegar such among professionals and gourmets. The selection of pure sorts of fruit vinegar such among professionals and gourmets. The selection of pure sorts of fruit vinegar such as pear, apricot, and quince and barrel-aged varieties such as balsamic vinegars from apple, pear or wine is huge. They can be tasted on-site and, of course, purchased, just as is true of the widely acclaimed fine brandies by Alois Gölles. Nowadays, you can also spend the night at the Gölles establishment. Not in his private quarters, of course, but in the new epicure hotel Riegersburg. The hotel offers practical packages with tasting tours in the area, including trips to wine bars. A Styrian salad, perhaps with the typical large spotted beans and the best vinegar would be unthinkable without pumpkin seed oil. The "black gold" is made from carefully ground and roasted seeds of the oil pumpkin: With its dark green color and aromatic nutty flavor it is a typical ambassador of the region. Several oil mills offer tours and tastings.
Sweet finale It is but a moment to a sweet chocolate paradise. There are three reasons to visit Josef Zotter's chocolate factory in Bergl with a view of the Riegersburg. You can watch the production live, you can sample all of the products in tiny little pieces and you can buy the products to take home. With remarkable determination Zotter has been able to switch his entire chocolate production to an organic and fair-trade basis. He has become one of the few bean-to-bar producers in Europe. He buys raw cocoa from certified organic and fair trade operating plantations and roasts, grinds, conches and completes the process here in the middle of the Styrian Volcano Land. The entire process of producing the hand-made, filled pieces of chocolate and pralines can be observed first-hand – upon prior appointment
LINKS:
www.vulkanland.at – Complete information on the region, such as events and starting times as well as the new hiker's guide with over 400 identified hotels, wine bars and accommodations can be acquired here: www.karte.vulkanland.at – Practical virtual map of the Volcano Land
Beitragsbild: © Österreich Werbung, Fotograf: Herzberger